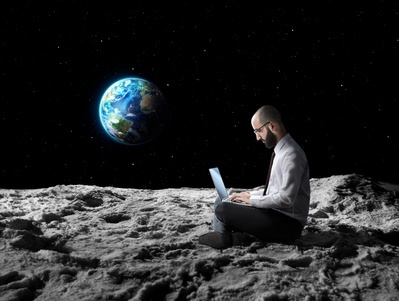 Did you know...Lockheed Martin manufactured the Mars Climate Orbiter, which was intended to study the climate of Mars from an altitude of 500,000 feet. However, due to a navigation error, the $125 million craft reached an altitude of 190,000 feet instead, and was destroyed in the planet's atmosphere. The reason for the disaster was simple. The software that controlled the craft gave commands in imperial measurements such as pounds and ounces, but the craft was programmed to interpret the figures using the metric system. Marcia S. Smith of the Congressional Research Service summed it up well when she said that "it is just dumbfounding, flabbergasting--all those superlative adjectives--that this could possibly happen.
A local company, founded 75 years ago, specialized in machining and assembling has become a global leader in the design, engineering, manufacturing and assembling of complex precision-engineered components for several industrial sectors.
The name of the company is not cited in the article for confidentiality purposes but their experience is highly valuable and worth being shared. You can judge by yourself.
A business challenge was the catalyst for change
The company was facing a human resource challenge that could have a significant impact on their business. Look at this scenario, the key resource of their IT team was leaving the company, which inevitably happens more often nowadays than we would like to admit.
When confronted with this hurdle, and knowing it would be difficult to find someone with the same skills and experience, they asked themselves if there was a different way to overcome this challenge.
Unique business needs
Many companies confront, the process of finding, hiring, and training, retaining IT quality employees has never been more difficult or expensive. This company required someone with leadership and knowledge in several areas, such as Intel infrastructure, Netapp, Checkpoint and Exchange, to name a few and they knew that the search would not be an easy one.
Notably the company was doing business with the military and a requirement was to keep certain sensitive data in house. Therefore migrating some applications to the public cloud was not an option.
The ultimate goal was to be able to focus on what they do best, building innovative components, and not worry about their IT and the effect downtime would have on their business.
Managed Services was the best answer
Approached by Present's managed services team, the benefits of outsourcing their IT department quickly added up and became the obvious choice. The business case they were presented included the following elements:
• Access to a wide-range of experts and skills without the associated cost
• Monitoring to ensure the systems are healthy and running 24/7
• A team of people to react quickly in the event of downtime
• IT operations at a lower cost
• Reporting; stopping problems before they occur
Quantifiable Results
An agreement was reached with Present for a fixed monthly fee to manage their complete IT infrastructure, from their firewall all the way to storage.
These were the results achieved within the first 5 months into their contract:
1. Cost savings
27% savings in IT operations compared to an employee salary due to management tools that allow operating more efficiently and automating many functions.
2. Selling to the CFO
The reporting capabilities facilitated the discussion with Finance and expedited the approval of a Server migration project, which led to better performing IT systems.
3. Security insurance policy
Security is paramount for any business and they can now rest assured, through the monitoring capabilities, that the systems and data are protected.
Don't take our word for it
These were some of the comments we received "Present is a partner we have come to rely on to advise us on our systems and guide us in making the best decisions to insure our IT is a powerful and reliable foundation for our business.
We are in a business with strict timelines and can now focus on what we do best and leave our IT systems to what Present does best. I have been impressed by Present's professionalism and leadership and am very happy with the speed and efficiency in which they have dealt with unpreventable situations.
And, it would be uncharacteristic of a financial professional if I did not mention that I am thrilled with the financial savings and reduced risks to our data that have resulted from our partnership."
Take-away
The goals and benefits of managed IT services will differ from company to company but in general, it is a game changer. Present managed services can remotely manage your IT infrastructure. We can monitor and optimize your IT infrastructure 24 hours a day.
For more information on Present's managed services, please contact us at info@present.ca or fill in the form below. We offer a free assessment that will assess your specific needs and determine if manage services makes sense for your enterprise.
Photo Credit : © Romolo Tavani - Fotolia.com