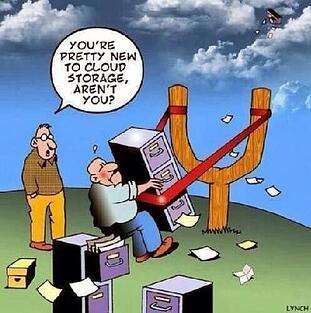 Where to keep your CRM, email, backups and other important information and workloads is a decision that is becoming more complex. The traditional environment used to be your only choice. This worked fine, but was not able to establish a flexible, adaptable IT environment to quickly meet changing market requirements.
Along came cloud service to try and fill the need for greater agility whether in the form of SaaS, PaaS or Iaas in a private, public or hybrid model. Cloud computing provides convenient, on-demand network access to a shared pool of configurable resources that can be rapidly provisioned and released with minimal management effort or service provider interaction.
But what about cloud security?
In fact, while concerns about cloud security was initially a barrier to entry for many companies, partnering with the right provider can now provide a distinct advantage in this area. The cloud actually can bring more security at a more affordable price. The best service providers in this space have assembled a broad portfolio of security solutions of every type and make them available to companies, often through their partner/vendor networks. Today's cloud services are very safe and have proven this repeatedly.
Deciding whether and what to move to the cloud
Today, only considering CAPEX (Capital Expenditures) and OPEX (Operating Expenditures) is not enough to decide to stick with traditional infrastructures vs. Cloud. Moving to the cloud is, above all, about obtaining a competitive advantage (while minimizing business risk) in allowing users to access services more quickly. In almost all cases, if speed matters, cloud is going to win.
So in the end, companies need only to consider two factors when deciding to migrate to the Cloud: Overall Value and Cost of Ownership.
4 questions to help in your decision
To decide whether to outsource a specific IT service to the cloud, ask yourself the following questions:
Are the security, availability and compliance requirements of this service aligned with the performance, flexibility and cost of deployment in the cloud?

Are the technical and business requirements clearly defined and consistent with a cloud implementation?

Does the implementation of this Cloud service meet the needs of users?

Can we provide better services, more effectively, in the cloud?
The answers to these will help you determine your next course of action. Basically, if you answer "no" to 3 or 4 of these questions, then there is no real need to go to Cloud. On the other hand, if you answer "yes" to 3 or 4 of these questions, there is an opportunity for you to outsource your IT services.
Do business with a seasoned partner
It is important to remember that companies do not and essentially should not go all in with cloud migrations. Carefully consider where it is a no-brainer to move to the cloud and where it makes sense to stick with traditional infrastructure. Read the article What should you look for in your cloud service provider? to better understand how you can choose the right partner for cloud services.
By collaborating with partners like Present, businesses can benefit from proven assessment methodologies and best practices that help ensure consistent and reliable results.
Photo credit: Lynch