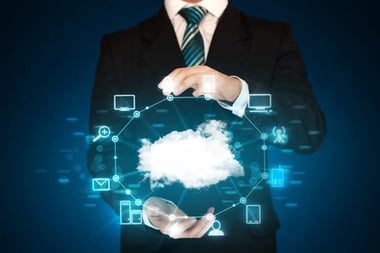 Recently I had the chance to attend the VMworld 2015 conference in San Francisco, organised by the leaders in virtualization and x86 infrastructure software, VMware. I discovered, among other things, that the cloud services trends is continuing to grow in popularity.
Moreover, VMware is pushing its cloud services offering even further, especially with object storage systems and disaster recovery data protection, which allows companies to better manage their IT infrastructure.
Here are four situations in which companies may want to consider cloud in their IT strategy.
1. Disaster Recovery
Companies should
protect themselves against potential disasters
that may arise in the workplace and damage or slow down their servers. This is all the more important if one considers the direct and indirect costs related to downtime, which are often significant.
Some cloud services, such as vCloud Air Disaster Recovery enable the implementation of a hybrid cloud quickly. In the case of a disaster at the main datacenter, an enterprise can benefit from a secure external cloud, entirely compatible with its own data center. And since it is offered as a service, the storage capacity can be adjusted as needed during a critical period.
2. Fluctuating workloads
In this same logic, the flexibility of the cloud can also be used when peaks occur in activities or needs. Every business experiences periods of peak activity in which the infrastructure is more strained than usual.

Instead of purchasing equipment according to the temporary peak of activity, it is now possible to transfer servers in the public cloud to access more resources quickly.
Unlike the purchase of servers and as the case may be, users only pay per use, that is to say, for the months where the public cloud is utilised. This way, you move from a capital investment model to that of an operational expenditure.

Moreover, once the peak period is over, the transfer back to the enterprise's private servers can be done seamlessly, without having to change the infrastructure.
3. Punctual application development
Often, companies must modify, optimise or completely redesign certain specific applications. Developers are temporarily hired to perform this work, such as the development of an application.
In order to enable this development, most companies will procure additional servers, which once the task is completed, are no longer useful. Cloud services provides the capabilities and the processor, storage and networking resources that can be used from time to time, eliminating the need to purchase new expensive equipment.
4. Eliminating internal equipment
Finally, cloud services can represent the perfect solution for companies who no longer wish to manage hardware internally. This decision may be made due to lack of expertise in IT management or simply to eliminate the presence of equipment and their management in the data center. Companies can decide to have a certain portion of the components of their IT infrastructure in the cloud, including production.
At first glance, this approach might scare managers and raise questions about the security of their data and the relevance of their teams. However, it is important to understand that the major cloud service providers have security systems on the cutting edge of technology, often more robust and optimised than those of an SME, for example. They also have a full team of qualified experts in IT security.
Important
These 4 situations are great examples of where cloud often makes a lot of sense. But ultimately, enterprises must evaluate a move to the cloud like any other major change in technology by weighing the benefits against the possible drawbacks. Request a consultation with one of our cloud experts to help you evaluate your options.
Photo Credit : © ra2 studio - Fotolia.com