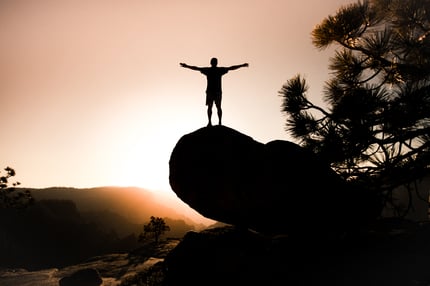 Stop for a moment and ask yourself the following question:
"How would my life at work be if I were not in charge of IT operations anymore?''
You've entrusted a partner to manage your IT according to the best practices of the industry. You're in good hands. It's not your responsibility anymore. This is no longer a concern in your everyday life.
Imagine how much your liberated mind could focus on the activities that really matter. And what additional impact you could have on the important projects of the company!
This is one of the biggest values of managed services. And those who made the jump say they would not go back. The impact on their results, the productivity of their team and their performance are all multiplied. Not to mention the additional happiness at work.
Managed services, or the art of focusing on what will make a difference
Managed services ensures that all of your IT works without you having to worry about it.
You now have more time and energy to spend on research, innovation, projects and goals that are important to you. You will also fully benefit from the talent and creativity of your team, now free of the maintenance and repetitive tasks related to IT.
Of course, you are not immune to unexpected situations or bugs, but your IT is proactively managed with the best tools to prevent them. And if an unexpected event occurs, your managed services partner will solve the problem for you. On your side, you remain focused on the important project that will allow your organization to reach new horizons.
Increasingly, companies that want to differentiate themselves, choose to outsource their IT by entrusting it to an organization specialized in managed services. This allows them to dedicate all their time and resources to key projects.
Leaders choose the managed services option because of the financial benefits and also because of productivity gains. But, the most significant benefit is peace of mind. By decreasing your mental load, outsourcing your IT finally gives you the opportunity to focus on what really matters, the growth of the business.
A little history :
In the early twentieth century, companies settled on rivers and streams to produce and manage their own electricity. Today, energy is an acquired service: all we have to do is plug into an outlet for light, machinery and technology to switch on.
It's a bit like this for IT. Just a few years ago, businesses had to do everything themselves. Today, our clients are connected and run their business without worrying about the complexity required for their infrastructure to function properly. We take care of that for them.
No longer be reactive because of your IT
Technological changes are intensifying, becoming more complex and will continue to surprise us. Why burden yourself with this complexity when it can be delegated to experts?
Make the switch to managed services and free yourself from the constraints of your IT. To learn more, read our ebook on IT managed services. You will find that the time has come to start delegating IT tasks that waste your time and energy.