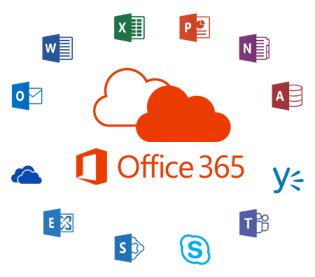 Like many companies, you decided to make the jump to Office 365. Excellent news! In addition to improving the productivity of your teams, the cloud-based Microsoft suite helps overcome common challenges related to costs, communication, remote work, and more.
However, do not migrate to these powerful tools hoping that your employees will master them in the space of a few days simply by using them! To leverage Office 365 to its full potential, everyone needs to understand all of its features and how to use them properly.
Office 365 includes more than a dozen tools. The traditional Outlook messaging service and content creation and data storage software, such as Word, PowerPoint, Excel and Onedrive, are constantly evolving.
There is also a multitude of applications that serve in particular to facilitate teamwork and communication. OneDrive and SharePoint Online, for example, both enable document sharing and collaboration, but their applications differ greatly. For its part, Teams simplifies exchanges thanks to various conversation tools, file sharing and content editing.
And the list goes on!
To make sure that your employees are adept with the Microsoft Suite, and therefore more productive, we strongly suggest you to consider training tailored to their specific needs and current knowledge. It will help your team see things more clearly and determine which platforms are best suited to their tasks and responsibilities.
3 undeniable advantages in training your employees on Office 365
1. Higher productivity
Without training, employees will of course continue to work with the software they already use. They will, however, waste a lot of time trying to understand the new tools they have never had access to before. This situation involves many calls to the Help Desk and an increased solicitation of internal resources.
Employees who have undergone training, for their part, will be more likely to benefit from the many new features of Office 365. They may include:
• Store more data on the intranet;
• Share, edit documents and track changes with the versioning feature;
• Limit the number of searches needed to find a document;
• Free up their email with all the features of live chat;
• Conduct videoconferences;
• Keep track of all the steps taken with a client, colleague, collaborator, etc.
• Allows telecommuting, since everything becomes accessible in the cloud.
2. Greater return on investment
When you invest in Office 365, you automatically get all the tools mentioned above. Restricting your team exclusively to emails or content creation software would be counterproductive!
The training therefore maximizes your investment by using all available resources, which will increase the benefits and will facilitate the achievement of your objectives.
3. Adapt to the needs of your customers
The training allows your employees to be up to date with the expertise, projects and needs of the company's clients.
For example, if a buyer wants to start live chat or share folders through Office 365, your salespeople will be ready and able to offer the right tools.
Important
At Present, we offer customized training for your needs. We adapt to the expertise of your users, including separating them into small groups based on their knowledge.
Our training can be provided on site or remotely, and can even be filmed and kept on your intranet to benefit your future recruits.
Contact us to discuss your needs. Together, we will determine the right training for all your users and define an action plan that will meet your goals.