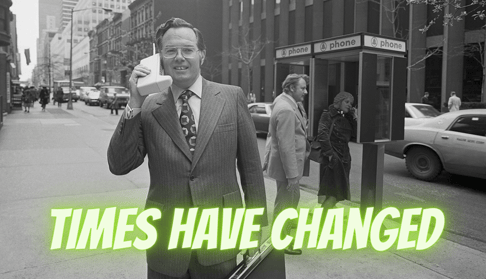 The last few years have seen a rapid evolution of workplaces. What were traditional organizational structures have evolved into work environments focused on digital and remote collaboration
Whether this shift is at the heart of your strategy or not, your organization has necessarily had to evolve towards a digital way of working, if only for the duration of the pandemic we are currently going through. However, be aware that Teams/Zoom or any other online communication tool is simply not enough anymore.

In fact, a report on the evolution of the workplace published by Harvard Business Review revealed that 78% of senior executives in companies believe that fostering a modern work strategy is essential. However, only 31% think their company is forward-thinking enough to do so.
E

xplore Microsoft's Modern Workplace

Many companies have undergone a rapid transformation by implementing Microsoft Modern Workplace technology within their organizations. This allows their employees to be supported by cutting-edge technology that allows them to work smarter and be more productive, collaborate with remote teams, and enjoy the many other benefits that Microsoft 365 offers.

When fully embraced, the modern workplace streamlines processes within your business while improving communication and enabling employees to connect, collaborate and create from anywhere.
Here are the top 4 reasons why your business should go all out to fully embrace the

Microsoft Modern Workplace

.
1. Microsoft's Modern Workplace Delivers a Better Employee Experience for Remote Teams

Microsoft 365 includes new platforms, tools, and applications to support employee wellbeing, connectivity, and learning in a digital workplace. With the launch of Microsoft Viva, the company's new employee experience platform, Microsoft is betting on the future of remote working and the importance of creating a virtual company culture built around flexible working models.

There is no doubt that employee expectations of work have changed due to the pandemic. A BCG survey of 12,000 employees found "a significant shift in employee expectations for the future of work, with a strong appetite for flexible working methods – and increased openness to this from managers" .

Businesses recognize the need to cultivate a culture better suited to a digital workforce. According to Forbes, "Companies that embrace the remote employee experience can create great corporate cultures specifically designed for the future of flexible working." In the post-COVID era, companies that embrace digital transformation to meet new employee expectations are better positioned to thrive in the future and attract new talent.

Viva is designed to do just that. Employee-centric platform helps companies better connect and support distributed teams by integrating custom tools for employee engagement, learning, and wellbeing into daily workflow within Microsoft Teams . Through Viva, employees can view an always-updated company newsfeed, attend virtual meetings, and access information specifically for remote workers, such as a guide to planning a remote work day to include regular breaks, informal chat times with colleagues and wellness opportunities.

2. Microsoft Modern Workspace promotes more effective collaboration

At its core, Microsoft Modern Workspace aims to improve employee productivity, enable seamless collaboration and communication, and streamline workflows across locations and platforms. The technology that enables all of this is found in Microsoft 365. With seamless integration of Microsoft 365 apps and services, users can collaborate better, no matter where they work.

Teams epitomizes the Microsoft modern workspace by presenting a unified interface that allows users to work seamlessly across backend-integrated Microsoft 365 Apps. As Microsoft's teamwork hub, Teams brings chat, calls, meetings, file sharing, and third-party tools together in one central location.

As the needs of remote workers continue to evolve in real time, Microsoft has continually added new Teams features to meet them. From streamlined file sharing to shareable calendars.


3. Microsoft's Modern Workplace automates time-consuming tasks

The Microsoft 365 Power Platform brings together products that allow users to develop, create, analyze and automate processes; this is another major motivating factor to transition to modernity. These products are incredibly useful for streamlining workflows and increasing efficiency within your organization. But you must use the SharePoint platform to take advantage of all their available features.

Microsoft's Power Platform includes Power Automate (a cloud-based service that helps users create automated workflows between their favorite apps and services), Power Apps (a builder of custom apps), Power BI ( a data analysis tool) and Power Virtual Agents (a no-code chatbot generator).

Power Automate, formerly known as Microsoft Flow, is a popular tool for streamlining everyday tasks. And you don't have to be an IT professional to use it. Employees can use Power Automate's platform to create all kinds of time-saving flows, from automatically saving email attachments to managing SharePoint approvals.

4. Microsoft Modern Workspace is scalable for remote teams

Remote work is here to stay, and organizations are now faced with the challenge of finding a scalable way to maintain a well-managed and secure digital workplace. By leveraging the self-service functionality in Microsoft 365, IT can empower employees to create the resources and tools they need while avoiding the time-consuming access control of an entirely locked down system.

The self-service model has become more relevant given the explosion of Microsoft Teams and the corresponding administrative challenges. In a modern, distributed workplace, IT teams can quickly become overwhelmed and an IT-led procurement model, where users depend on IT to approve the creation of each new group or team, is nearly impossible to manage at large scale.



C

onclusion
Businesses understand the need to work and collaborate from anywhere and that user experience is paramount to boosting productivity. Technology needs to be easy to use and reliable, but we know it can be difficult to follow industry best practices as technologies related to the modern workplace evolves rapidly.

Present is a Microsoft Gold Partner and we'll work with you to discover the best approach to managing your modern workspace and customize your modern workspace solution based on your business goals and needs.