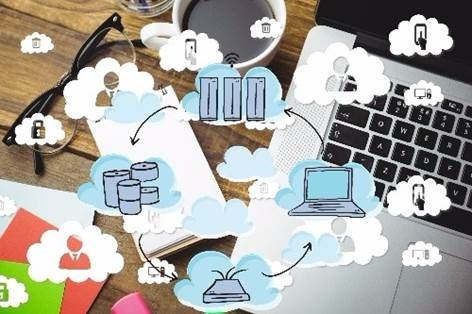 Today's companies must increase their IT's efficiency to remain competitive, regardless of their industry. To do so, they must support their growth with powerful easy-to-use technological tools.
This is the case for Microsoft Office 365. Contrary to popular belief, it goes way beyond a simple cloud-based email service!
As the undisputed leader in its field, Office 365 is a fully integrated platform offering a complete array of tools. These different applications increase the efficiency of collaboration and the speed of communication, resulting in tangible benefits, both internal and external.
What are the services offered by Office 365?
Office 365 is a series of software and applications as a service (SaaS) and is therefore fully hosted in the cloud.
This way, companies benefit from the full advantages of the cloud, such as its accessibility and data sharing, and can rely on the most recent versions of the software through automatic updates.
Professional email service which includes email management, calendars, contacts and tasks.
Office 365 offers the renowned Office 2016 suite in a cloud-based version: Word, Excel, PowerPoint, OneNote. Some packages also include the desktop version adding Outlook, Publisher, and Access. The desktop version can be installed on up to five devices per user. The online version can be used on virtually any device.
Ideal platform to support custom application development that allows efficient team collaboration without having to deploy an in-house infrastructure.
To hold unlimited online meetings with HD videoconference, for desktop sharing and instant messaging with a real time presence.
Data storage synchronized with all connected devices.
Office 365 is in continuous evolution and its range of services is constantly expanding. As proof, the E5 Plan now includes a PBX service that makes it possible to replace in-house telephone installs, as well as a dial-up conference service (PSTN), both based on Skype for Business.
Office 365: Effectiveness in the forefront!
It's a simple equation.
Easy access to functional collaboration tools = an increase in efficiency and speed of information sharing
Here's how Office 365 increases business productivity:
The different tools are easy to use and interact flawlessly with each other, reducing the workload and the learning curve.
The service allows rapid and direct sharing of information: teams collaborate faster and more efficiently.
A major benefit of cloud computing is that it allows access to software and data from any workstation and mobile device around the world.
As opposed to software hosted on an in-house infrastructure, Office 365 allows businesses to add – or remove – functionalities based on their needs. It is a flexible approach well suited to the changing requirements of companies; a simpler and cheaper way of working compared to the integration of incongruous solutions after the fact.
Best use of internal resources
Businesses can free up internal resources assigned to tasks related to the deployment and the maintenance of software hosted on in-house infrastructure. They can then be assigned to projects more aligned to the growth perspectives of the company. Moreover, these resources will most likely never be as fast and competent as Microsoft.
How to choose the right services for your company?
As a Software as a Service, Office 365 is based on monthly pricing that varies according to the required services and users, as licenses are linked to the user rather than the desktop, as it is the case with traditional licenses.
Although Office 365 is a user-friendly and easy-to-use platform, its offer is so exhaustive, and its plans are so numerous, that companies may have difficulty finding their way. To get the most out of it, they must seek advice from a specialized partner.
Present can help you maximize your Office 365 investment by leveraging its deployment experience and best practices. We assist you to: