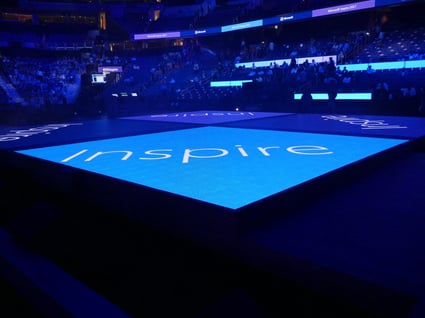 Microsoft Inspire, the annual conference dedicated to Microsoft partners, was held from July 9 to 13. Eager to stay abreast of the best practices and innovations in IT and digital transformation, we traveled to Washington to take part. Better known under its former name Microsoft Worldwide Partner Conference, the major event was very aptly renamed!
The main strategic and technological orientations of the Seattle enterprise are firmly focused on the highest efficiency and best practices of collaboration. We share 5 key elements that we learnt at Microsoft Inspire (#MSInspire).
1. Increase business productivity by increasing IT efficiency
What we retain of the few days at the heart of Microsoft's organization is its unwavering commitment to helping companies of all sizes become more productive by providing them with efficient end-to-end technology solutions. Indeed, its offer is more and more transversal and it tends to meet all the IT needs of companies. "Enabling every person and organization in the world to succeed more" is Microsoft's simple but powerful mission since 2015. All of their tools and solutions are geared to this goal. The keywords are productivity and collaboration, whether within companies or in their relationships with their customers and Microsoft partners.
In a context where digital transformation is essential, but complex, Microsoft positions itself strongly by focusing on simplicity and efficiency. By offering software that span all areas of the business and are fully integrated and easy to use, it becomes a one-stop shop for companies that want to increase their productivity.
2. The vertical market : industry-specific solutions
The IT giant took advantage of Microsoft Inspire to announce the launch of its vertical market strategy. To support companies in their digital transformation, the company is now working to align its teams by industry, including retail, manufacturing, financial, government, education and healthcare. Through this specialty approach, companies are supported by qualified experts in their industry. They are thus better advised according to the problems and constraints specific to their field.
3. Office 365 : for efficient and fast collaboration
Microsoft continues to push ahead with Office 365, its fully integrated platform that offers a full range of proven tools. From the Exchange e-mail server to the SharePoint Online application development platform, to the cloud-based Office suite, it offers solutions that focus on collaborative work. For example, by facilitating document sharing and presentations, Skype Enterprise allows for both more productive internal meetings and better communication with customers. The OneDrive storage space synchronizes data on all connected devices. The user is therefore assured of working on the most recent version of the document in question.
Read this article to see all the benefits that Office 365 offers to businesses.
4. Azure: a set of integrated cloud services
Over the past few months, Azure has seen a dramatic rise in the cloud market. The cloud service was still very little known two years ago but Microsoft is now the 2nd world leader in this field. Even more telling about the performance of the platform is that it used by 80% of Fortune 500 companies.It is obvious that Microsoft intends to be number one in cloud computing. And by offering nearly 260 different services through its Azure platform, it is certainly taking the necessary actions to become it.
Learn more about the 5 reasons why companies are choosing Azure.
5. Dynamics 365: Intelligent Business Applications
Microsoft's Enterprise Resource Planning (ERP) covers all aspects of business management; from operations to marketing. The integrated CRM ensures optimal customer and sales management. Its wide range of powerful analytical tools makes it possible to collect all the information necessary for decision-making. With its human resources module powered by LinkedIn, which it acquired last year, Microsoft is truly meeting all business needs across the board. Available on the Azure platform, Dynamics 365 is based on the advantages of the cloud: its applications are unified and synchronized to ensure a simple and efficient management, at the company, customer and human resource level.
Conclusion
Even though today's businesses understand the need for digital transformation, most SMBs struggle to make the transition from their traditional environment to the use of digital technology. It is precisely this issue that Microsoft is attacking.
By continuously offering more fully integrated software and IT services focused on business productivity, it is clearly positioning itself as the central solution to all technological needs.
As a Microsoft partner, at Present, we see the value that these directions can bring to Canadian companies and we are proud to contribute to our client's success!
Cover image credit : Microsoft