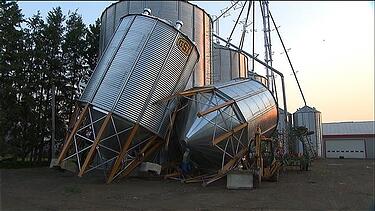 The problem with silos is that they do not permit the exchange of information with each other. This is found in all corporate spheres and creates major bottlenecks that disrupt a companies' rate of growth. Specifically, at the IT level, companies often evolve their infrastructure in pieces, the mail servers, the storage servers and networking. All these systems live partitioned, each requiring separate resources for their management and promoting inefficiency as they fail to communicate together. Agility is no longer "a nice to have" for enterprises but rather a necessity in order to remain competitive and fragmented silos are incompatible with this objective.
Converged Infrastructure Definition
A set of components (servers, storage devices, networking, software ...) combined in a comprehensive and optimized infrastructure solution powered by software and a unified management platform. A converged infrastructure comprises several layers including hypervisor virtualization tools, management automation and pre-integrated hardware that allows communication between the various components of the infrastructure and management platform.

Other terms that we often hear employed to talk about converged infrastructures are: converged solutions, converged systems, converged infrastructure, unified infrastructure or fabric-based infrastructure.
Centralized management of the data center for better productivity
Enterprise data centers are becoming increasingly complex as they are very heterogeneous, adding a level of centralization avoids allocating too many resources to its management. Convergence brings the management of the data center to a strict minimum by bringing together all services on a single chassis to manage from a single console.

The performance of the data center needs to be optimal today and tomorrow for when new applications will be developed to support the growth of the company. Converged infrastructure solutions offer the advantage of optimizing workloads and therefore mobilizing infrastructure capacity when it is needed, without bottlenecks like a typical infrastructure and without the complexities of management.
Reduced maintenance and operating costs
The procedures for updates to an infrastructure are usually quite complex, because they will mobilize different people who have specific roles. Without the joint efforts of all stakeholders, it is the status quo (the updates will not happen).
When all platforms are converged, the updates are automated, deployed throughout the physical and virtual components without additional manipulations and are less frequent as all the silos (server, storage and networking) are shared in a unique environment. If we take the example of the IBM Flex System, it is the integrated management console that collects all the updates for all devices connected to the system and will install them (according to the rules defined by administrator).
Without converged infrastructure, you need an administrator for each silos, which is inefficient, especially in today's market where qualified resources are scarce.
Although we have been talking about converged architecture solutions since the late 2000s, it is now that more and more medium and large businesses are adopting these solutions, as highlighted in the article on major IT trends in Canada in 2015. This is due to several factors, including the democratization of virtual environments, the maturity of the products offered and the awareness of the high cost of infrastructure management. Virtualization of infrastructure is the first step towards converged solutions that truly prepare companies for growth and the rapid adoption of new technologies in the coming years.
The smooth transition to a converged infrastructure is usually done with the participation of one or more solution architects who have experience of such environments. Contact Present to speak to one of our expert architects and learn more on converged infrastructure solutions.