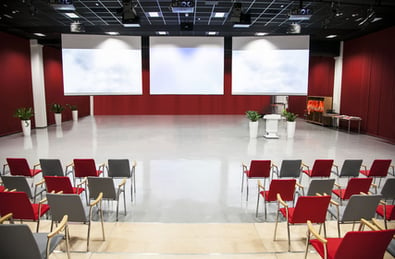 We are at a turning point in IT infrastructures that were until recently more traditional and are become increasingly virtualized.
With the advent of SDDC or Software-Defined Data Center that includes virtualization of all the elements of a data center: storage, servers, networking and broader management, we decided to bring together leaders of SDDC to present the trends of the new IT model on May 7th at the restaurant Le Graziella (register here-presentations are in French).

As an IT leader, you are pivotal in contributing to your company's growth and this event is being organized to help.
5 reasons to attend
1. Understand the trends and developments of SDDC
It is now necessary for CIOs and IT managers to take a closer look at what is being done in terms of infrastructure.
The goal is to have a concrete understanding of the opportunities available to them and how they can use their IT infrastructure to support the growth of the data center, but also the company.


2. Head in the right direction for future infrastructure investments
Companies continually make investments in their infrastructure, and depending on the direction they take, they can make choices that could deprive them of what technology has to offer. Consequently, these companies may be forced to increase their investment to constantly adjust to changing business needs and requirements.
The exponential increase in the volume of data generated by corporate data centers is a factor that is important in making decision about investments in IT infrastructure.
3. Understand how to reduce the complexity and management of your environments
Environments are increasingly complex and SDDC allows companies to optimize and minimize human intervention.
Because teams are becoming smaller and yet still need to support an increasing numbers of services, that now include telephony, monitoring systems, Big Data and data analysis, IT is reaching a saturation point

SDDC, among other thing, acts as a solution to automate the management of non-value added tasks to allow IT staff to focus on those key ones that are adding up.
4. Have access to experts from VMware, Brocade and Present

VMware has always been known in the market for virtualization of the x86 platform. Yet VMware does much more than that and offers solutions for automation, management, proactivity, networking, storage, security, backups and disaster recovery plans (DR).

Brocade is a specialist and a leader in interconnectivity equipment, in the development of Software-Defined Network virtualization and networking. They offer an advanced level of integration with VMware solutions.

The expertise of

Present is

to aggregate the

solutions

of its partners to

develop

infrastructures that are

reliable

, efficient and

optimized for

companie's

current and future

business needs.

The presence of experts from all three companies allows for a global vision of the foundations of the new IT model based around SDDC.
5. Network with other leaders in IT
Do not forget the importance of the human in information technology. Come and share your vision of the data center, find answers to your questions and make new contacts.


© stocktributor - Fotolia.com