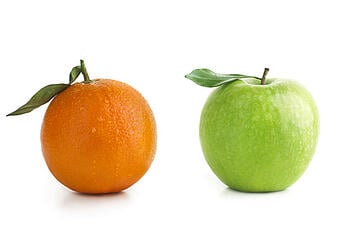 It seems that everyone is talking about "the cloud" and using the vocable as an all-encompassing term for any technology that has any relation to the cloud including virtualization. This can make it confusing when planning your company's current and long term IT infrastructure and storage needs.
Many people make the mistake of using the terms cloud computing and virtualization interchangeably because there are similarities between the two technologies. Yet although they are directly related, they are indeed two separate technologies.
Understanding Cloud Computing
Cloud computing is the ability to access and store applications and data on remote servers on the Internet. Simply put, cloud computing is IT as a service. Clouds can be public or private. Using the cloud reduces reliance on local servers or users' hard drives, thus reducing IT expenditures for hardware and applications and the time spent maintaining these components.
All types of businesses, regardless of size can benefit by moving certain processes and data to the cloud and reducing their dependence of device-specific processes. In fact a recent study by IBM stated 90% of companies plan to implement cloud services by 2015. Also, according to Information Week's State of Storage Survey, a near doubling of respondents reported using cloud storage services for backup and recovery of data from the previous year.
What is Virtualization and How is it Similar to the Cloud?
The process of virtualization is based on virtual machine monitor (VMM) technology where the computing environment is separated from the network's actual physical infrastructure. Infrastructure virtualization software allows for running multiple applications and operating systems all from the same server at one time. This allows businesses to use their existing computer hardware more efficiently and with more flexibility while reducing IT costs.
Cloud computing is possible because of the virtualization process; therefore, leading to the confusion between the two processes, especially when it comes to working with a private cloud environment. Generally, using a cloud service is a self-service process that is pay-as-you go and can be scaled to fit the user's needs. This is in comparison to implementing a private cloud that uses its own virtual environment that gives the user more control and flexibility, in addition to more security if warranted.

How to Choose between the Two?
While there are similarities between virtualization and cloud computing, each has their own benefits
When it comes to cost savings, server virtualization technology makes better use of the hardware you already own, by optimizing and configuring your hardware to take on more. Ease of use is another great benefit, as it is centrally managed in one interface.
In terms of cloud services, elasticity is a big advantage, allowing you to adapt to workload changes in an automatic manner, such that the available resources match your current demand as closely as possible. Another big benefit of cloud technology is that your data, files and programs are stored independently of your own company hardware. If anything happens, your important information is safely tucked away in the cloud.
Conclusion

Essentially, the difference between virtualization and cloud computing is that virtualization is software that manipulates hardware, while cloud computing is a service that results from that manipulation. They are both ways to do "more with less" by maximizing the utilization of computing resources. You will choose one or the other depending on your company's current and future needs.
Take a look at our eBook "5 Steps towards a More Functional and Efficient IT Infrastructure," for other ways to do "more with less".
© simoncphoto - Fotolia.com