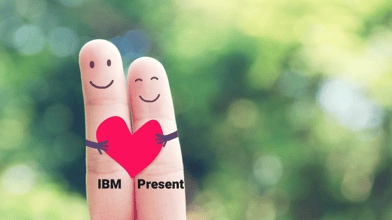 For nearly 30 years, Present has partnered with IBM to provide customers with powerful technology solutions to achieve their goals and overcome their key challenges.
Present was founded in 1990, two years after IBM launched its flagship server, the AS/400. And it didn't take long for the start-up to take notice of the potential, leadership, and innovation capability of IBM and it soon became one of its key partners.
This year, the AS/400 (Power Servers) celebrates its 30th anniversary! Let's use this milestone opportunity to reaffirm how, in partnership with IBM, Present helps Canadian organizations grow, develop and stay on the leading edge of technology.
A bit of history: where does Present come from?
At the end of the 80s, IT was becoming more and more important in organizations. It was replacing, at super speed, manual management operations, such as accounting and inventories. As a result, the demand for services in digital management and planning was growing.
Marc Beaulieu, the current president of Present, was working for a firm that sold IBM System/36 software. With the arrival of the AS/400, his employer decided to no longer serve customers who chose to keep the old version 36, certain that it would eventually no longer be supported.
Meanwhile, the young entrepreneur worried about the success and well-being of his clients to whom he has guaranteed investment protection. He decided to leave to leave and to start a new company to support System/36 users.
He decided to name it Present, to affirm his desire to be present for his clients.
Present develops a rich partnership with IBM since its founding
Early in his business, Marc Beaulieu approached IBM to become an AS/400 partner and to offer even more opportunities to his customers, while protecting their investments.
For 27 years, Present has been able to honor its name by putting its clients at the center of its priorities and operations, by offering constant support, and living up to their expectations.
The AS/400 system (Power Servers): undeniable advantages
The many benefits of IBM systems make it a powerful tool that allows Present to follow through on its promises and deliver the best to the organizations it serves.
Investment protection
When IBM moved from System/36 and 38 to AS/400, its priority has always been to protect the initial investment of its customers. To do this, the team had developed a user-friendly and highly scalable system, which allows the accommodation of data and software programs previously acquired, while minimizing costs.
This initiative allowed users to transfer their data and stay in a familiar environment, all the while progressing in terms of performance and technological innovation.
Even today, IBM continues to evolve the system while taking into account the technology used by its customers, as well as their needs and expectations. The Power 9, ready for cloud, AI and BI applications, is proof of this. IBM is currently finalizing tests on the Power 10 server and is already working on the Power 11.
Sharing and openness
With the Power 9, IBM made the decision to make the blueprints of the processor available and offer the opportunity for other manufacturers to produce them.
The processor is already beginning to be used for other purposes, including refrigerators, automobiles, game consoles and more. By opening up this data to the community and programmers, IBM allows the product to continue to evolve. Additionally, making it possible to integrate new features, develop artificial intelligence in the business field and, ultimately, to reduce costs.
Security above all else
Since its creation, the AS/400 is considered one of the safest systems in the world. It is impossible to activate a virus on the operating system. Although the machine can transfer files and store them on disks - and thus technically transfer a virus - it cannot run it and cause damage to software, data or the server itself.
To infinity and beyond
For more than 30 years, the AS/400 server has powered small, medium and large businesses around the world. An IBM partner since its founding, Present accompanies its customers in optimizing the use of this iconic server with infinite possibilities.