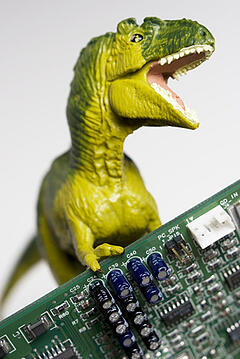 Business environments are becoming increasingly complex and extremely competitive. At the same time, the expectations of customers are growing rapidly as well. Companies are looking for new ways to enhance the quality of their products and services and drive business growth through IT solutions.
So how do we address these challenges and demands if we currently have a dinosaur-like IT infrastructure? Today we go over four tips on how you can update your IT infrastructure in order to be more agile, efficient and responsive.
Let's get started!
Four Tips to modernize your IT Infrastructure
1. Rationalization of Infrastructure: 80% of an IT Infrastructure budget is spent maintaining the current systems. When you rationalize your IT infrastructure, you standardize, simplify and consolidate your current server environment and develop an approach towards a more strategic platform. You want to reduce non-productive redundancy and collective IT costs that result in higher quality services while reinvesting the savings into new technologies that support advancement. The key to having successful IT rationalization is to define a new funding/delivery model that is cost-effective and discourages nonstrategic IT spending by removing disincentives and adding shared services and infrastructure. It will also provide appropriate agile IT sourcing technologies either by a means of having a central IT system that provides services or to provide an external source such as cloud computing.
2. Virtualization: Virtualizing your infrastructure is key to keep datacenter environments managed effectively. When you virtualize, you can have multiple workloads running continuously as a consolidation process that will allow servers to handle the massive data influx. With today's cloud architecture, they are always updating the systems and adding more virtualization processes to best service the growing demand.
3. Cloud migration: By putting certain IT services in the cloud, companies are realizing that cloud is a great alternative to traditional IT and a way to quickly modernize your aging infrastructure. Not to mention all the operational benefits; accessing pools of shared resources, specialized services and saving time and money, while speeding time to market. There can be some obstacles to the adoption of cloud computing but overall cloud computing offers a very interesting and flexible approach that drives operational efficiencies. We address how to make sure your team is ready in our article "4 key elements for efficient cloud adoption".
4. Managed Infrastructure: Having managed IT Infrastructure leverages skill sets and has 24/7 operations support, fault management, performance management and security management across the network. These services are usually packaged to optimize technology and improvements to meet all your IT needs. These types of managed services also evolve with the latest technology trends to ensure you have the highest performance and utilization of technology for your IT infrastructure management.
Conclusion
Businesses need to adapt quickly to changing business conditions and IT needs to be positioned to respond to evolving customer needs and drive business growth. IT must not let an aging infrastructure get in the way of these goals. Is it time you optimize and update your IT infrastructure? Read our ebook entitled 5 steps towards a more Functional and Efficient IT Infrastructure to delve deeper into the subject.
© photo-dave - Fotolia.com