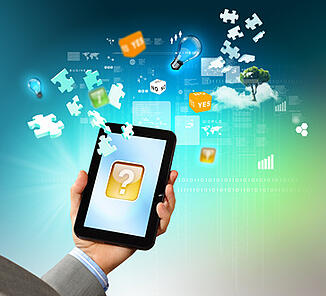 For many people, mobile applications are those handy little utilities that can be downloaded to a cellphone in order to provide some functionality not inherent in the phone itself. Businesses however, will benefit from mobile applications as they change the way their employees work.
Apps can improve someone's efficiency, improve communications and allows people to be more productive in many ways.
The Business Problem
An excellent illustration of how mobile solutions can provide the answer to a business problem is the interesting case of Distribution Regitan Limited, one of the largest full-service food distributors in Quebec, Canada.
Regitan hosts trade shows a couple of times every year at which store owners can engage with various suppliers and buy products for resale at a significant discount. The tradeshow is also an opportunity to discover new lines of products. Regitan handles the distribution of all of the customer orders in the months following the event.
The mechanisms around the orders were essentially paper based. At the end of an event, the order sheets had to be collected and processed by entering them into Regitan's ERP system. The paperwork would amount to thousands of documents and require a significant effort to get processed. Data entry personnel, as well as other office personnel had to gather, correct and enter the information. Even though the order processing started while the show was ongoing, the data entry usually kept on for many days or even weeks.
The Mobile Solution
Regitan approached Present, an innovative digital IT solutions company, looking for possible answers. Present suggested a mobile solution to address the business problem and improve the overall tradeshow experience.
The solution had to:
- Allow a vendor to quickly identify a customer and start placing an order for them
- Have an integrated product catalog (personalized to each vendor or broker) that could be searched with a rapid action to ordering.
- Enable the recording of orders and have a synchronized system that fluidly transmits the orders in the background while the vendor moves on to the next order
- Have the possibility to provide customers with an electronic confirmation of each order placed.
Solution Results
The end result of this mobile solution recommended by Present was extremely successful, and went well beyond simply solving the original problem.
- There were far fewer errors in data entry because hand-written forms were eliminated - all data was directly entered
- Order confirmations were indeed substantially quicker (almost real time)
- Because orders were being processed in real time and sales results were known much faster, additional discounts and incentives could be offered based upon those sales
- The 'vendor experience' was significantly improved as vendors could get their results in real time, for each line of product and overall.
- The customer experience was a much more satisfying one - customers appreciated the efficiency and also benefited from the possibility to receive email order confirmation
- Employee related costs were lower as most of the tedious data entry / order collection efforts were automated
- Regitan management was able to know their sales results in real time as the show progressed.
Conclusion
Mobile solutions can really improve the user / employee / business partner experience. It promotes higher productivity by transforming the way someone will approach a task or a business problem. It will allow you to innovate and transform your business to be more successful.
© Sergey Nivens - Fotolia.com