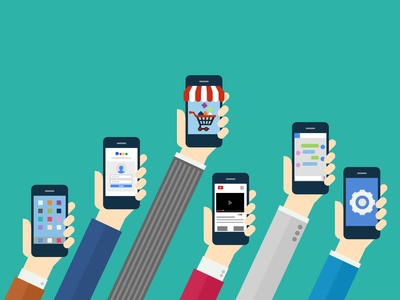 The rapid adoption of mobile devices and applications by consumers and within companies has redefined the way of thinking to solve business problems and seize growth opportunities.
Industries such as retail are among the early adopters of enterprise mobilty technology. The increasing shift towards e-commerce has forced an industry transformation in retail, where is it necessary to focus on the omni-channel shopping experience.
However, no industry can envision its evolution without an entreprise mobility strategy.
The paradigm shift caused by digital transformation must lead to a reflection on the levers of improvement and growth of organizations. Mobility allows businesses that have already made the shift early to benefit from competitive advantages.
Here are five industries in which enterprise mobility solutions are becoming essential.
1. Health and social services
In the health and social services sector, the priority of employees is to assist and help the population. However, this function is often diminished because of the administrative tasks that are required.
The actual time spent with patients can now be increased by centralizing the information in files through mobile solutions that combine functions like dictation, transcription and recording of medical data. The time savings can quickly reach 2 to 3 hours per day per employee.
From an operational perspective, enterprise mobility solutions enable the best use of the expertise of the medical staff and stakeholders on actions that add value.
2. The hotel and hospitality industry
The international tourism sector is experiencing an annual growth rate of 5% worldwide, according to figures from the World Tourism Organization.
Increasingly, travelers organize their trips from their mobile devices, including their hotel reservations. However, upon arrival, hotel registration can be a source of friction in the customer experience.
With mobile apps for enterprise, registration can be done without going to a counter and the device can even serve as a key to providing direct access to the rooms. The customer experience is greatly enhanced by this type of solution, and on the hotel's side, this solution reduces the staff needed at the reception.
3. Supply Chain
Supply chain management is complex as is every link in the chain. Today, there aren't any more significant gains to be made when it comes to the speed of the movement of goods. Consequently, it is during the transfer and handling of goods that businesses can improve.
The implementation of mobile solutions in this sector can achieve several objectives:
• Reduce errors in the movement of goods
• Increase the flow of traffic in warehouses
• Simplify and speed up operations in warehouses
4. Air transportation
Airlines are facing significant profitability challenges and mobility solutions are able to provide tools to improve efficiency.
Several airlines have begun replacing printed instruction and procedure manuals by mobile applications on tablets. In the case of Air Canada, the implementation of this solution eliminated 16kg of papers per flight officer.
In addition to cost savings due to lightening the load, officers have access to information more easily to enable them to make decisions more effectively.
Air Canada Cargo also uses mobile solutions for help in making real-time decisions regarding the management of sensitive goods.
5. After-sales service
Companies offering field services can greatly benefit from enterprise mobililty solutions.
Home delivery services, companies that make deliveries to restaurants, a department that must manage technicians on the road are all examples of environments where mobility can help to improve the level of client satisfaction as well as improve efficiency.
Whether taking an order for products, validating deliveries, managing daily technician work orders, there are a multitude of applications and solutions that can aid in providing a world class service.
Next step
The opportunities to improve process efficiency, increase productivity, improve the customer experience and generate more sales are today found through mobile solutions. The main reason is that their capabilities clearly outweigh those of traditional IT tools.
To understand the opportunities offered by mobility and how it can meet your business needs, read the ebook "10 reasons your business needs mobile capabilities today" or contact us for an exploratory meeting at no charge.
Image photo : © DigiClack - Fotolia.com