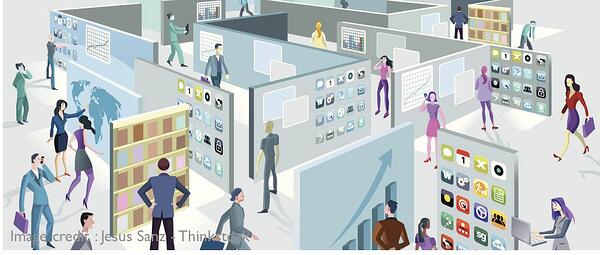 Mobile devices have revolutionized business over the last few years and have made both challenges and opportunities at the same time. In an Information Week survey, 82 percent of C-level respondents said they expect smartphones to play a critical role in business productivity whereas only 36 percent considered laptops to be critical. When combined with data accessible through a company network, the Internet, or the cloud, mobile devices mean employees are able to work at any time and from any location.
There are four main ways that mobility can lead to improvements in productivity:
1. Employees Have the Flexibility to Work Away from the Office
Using mobile devices enables employees to work from anywhere, including remote offices, customer sites, their homes, and during travel, which leads to an increase in completed work. More companies than ever before are allowing employees to work from home frequently, giving them the chance to modify their schedules to align with their lifestyles. This leads to greater employee satisfaction and therefore greater productivity.
Several studies have found a significant correlation between enterprise mobility and increased productivity. For example, an Aberdeen survey of 240 enterprises found that use of mobile apps designed to help employees complete work increased productivity on average by 45 percent and raised operational efficiency by almost 44 percent. Additionally, mobile device users in the U.S. federal government gain an estimated nine hours of productivity per week, which equates to nearly $284 billion per year in savings.
2. Businesses Can Connect with Customers and Suppliers in Real Time
Mobile devices facilitate real time connections between staff and customers or suppliers. This provides businesses with several advantages including:
- Improved customer service
- Greater value for clients
3. Access to Mobile Applications That Increase Productivity
Mobile apps have a number of benefits for companies; for instance, they allow workers to work offline, find new ways to solve problems and work more efficiently, and work whenever is necessary. There is a huge amount of apps that companies can utilize to increase their productivity. Some examples include:
CamCard, available for iPhone, Android, Windows, and BlackBerry, is a free app (or $1 for the ad-free version) that allows employees to scan business cards with the camera of their phone. The app instantly, and with a high degree of accuracy, files the information into a contact list that you can access for fast reference. It also saves a picture of the original card as a backup.
Inkflow is a free app for iOS designed specifically for those who like to organize their thoughts visually. Instead of creating lines of written notes like the majority of productivity apps, Inkflow allows you to draw your ideas in diagrams consisting of pictures and words. You can also export your creations to PDF or JPEG.
Keeper for iOS and Android is a free app that stores all your passwords while maintaining high mobility security. You can sync the app across all your devices to eliminate the need to constantly re-enter your passwords. It also reduces the chance that you will become locked out of an account and waste time while you wait for the IT department to send you a new password.
Although these applications can be great tools for increasing productivity, many companies are looking for an answer to a specific need, to improve a specific business process, something commercial apps just don't offer. Present's mobile solution practice offers B2B custom development to help companies achieve their specific business goals. Download the ebook 10 Reasons your Business Needs Mobile Capabilities TODAY to understand why apps are crucial for companies.
4. Raw Data Turned into Timely, Actionable Information
Data is an asset for companies more than ever before; instant information about products and services can increase value for customers and therefore lead to more sales. Mobility is the gateway to data as, when employees are able to access data on an as-needed basis; they can use mobile devices for everything from market research efforts to point-of-sale systems. Applications that promote two-way data transmissions to systems are especially important as they lead to smarter, faster decisions in the field and therefore increase productivity.
Enterprise mobility is dependent on delivering applications, content, and services in a secure, scalable, and reliable way. Like every other type of technology, there is no one-size-fits-all mobility solution for every business. However, although it may be impossible to anticipate all the ways mobility may transform a business in the long run, you must have a strategy with clearly defined business goals in mind. In addition, it is essential to involve stakeholders from every area of your business, as a fragmented mobile solution will not be successful.