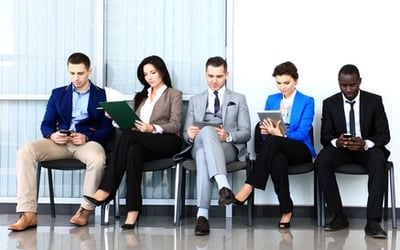 Recruitment, like other spheres of business, has evolved considerably in recent years. In addition to the changes taking place in business, the behavior of candidates is also evolving, which is forcing not only IT managers to adapt, but HR and marketing departments as well.

Here are four trends in IT recruitment that we are seeing dominate 2015, which demonstrates the evolution underway and necessity for companies to be ready to adapt.
The most sought-after skills in 2015
Be prepared to pull out all the stops to recruit talent who have the most in-demand skills. According to data from Robert Half Technology, the most popular specialties in 2015 in Canada are:

• engineers and network administrators

• desktop support

• developers

• Windows administrators

This is a continuing trend from 2014 as even though specialties like

business intelligence

have

been getting a lot

visibility

in recent months,

the volume of

open positions

is still relatively

modest.
Video: a key for recruitment ... and not only for interviews
The use of video for interviews is no longer a novelty and its adoption is quite large, with about 60% of HR managers using this method to conduct interviews.
However, a new use of video for recruitment has been on the rise: recruitment videos. These videos, being produced without a big investment, aim to present the position to be filled, a snapshot of the team, daily tasks, etc. IT employees are becoming increasingly sensitive to the complete working environment and what the business has to offer.
This strategy results in a stronger commitment of potential candidates to your open positions including those passive candidates who are on the lookout for potential opportunities.
For example, the Dynamite Group uses video for its recruitment brand both on its website and on social media networks.
Proactivity more necessary than ever in 2015
LinkedIn estimates that only 20% of workers are actively seeking to change jobs and the remaining 80% are on the lookout for opportunities. Suffice to say that the simple posting of a job offer online is no longer sufficent to find the talent you are in search of.
There is nevertheless a place where potential resources are present, whatever their employment status, and that is on social networks. An Aberdeen study found that 73% of 18-34 year olds found their last job through a social network. LinkedIn is the professional network that gives access to hundreds of thousands of potential resources yet Facebook and Twitter should not be neglected as powerful recruiting tools.
Although the specific targeting of resources should be the responsibility of IT leaders, the role of HR and marketing departments is gradually increasing to bring proactivity more into the equation.
Focus on the benefits offered and the employee experience
For

IT talent

, salary is

important, but

all the benefits

that revolve around the position hold a big weight that

has been growing in importance

for several years.

This

is why

the practices

born

in Silicon Valley

tend to be

adopted

more widely.




These benefits can be very varied and include:

• the company's facilities (entertainment room, nap room, gym ...)

• free food & drink (coffee, juice bar, health food ...)

• working time (flexible hours, telecommuting, days off, unlimited holidays ... )

Just as a focus on the user or

customer experience

is a must

, the employee

experience is

certainly

a guarantee of success

in recruitment

and

increased

retention.
Final Thoughts
Many industries are experiencing growth, and as a result, their leaders are clamoring for the IT talent that is required in order to meet that growth. And as business moves faster, these leaders cannot simply meet recruitment challenges with their current strategies, but need to consider more innovative methods to obtain and retain talent.
© opolja - Fotolia.com