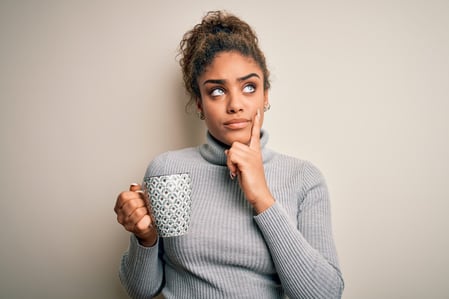 IBM Think Canada took place virtually on October 22 and it was a very inspiring and eye-opening event with over 40 keynote and breakout sessions. We were educated on and inspired on the topics of cloud and AI, Smarter Business, Security and Cyber Resilience and were even treated to a unique culinary experience.
Just the title "Think" is a great introduction to what this event was, and even more, what IBM is all about. To "Think" about the changes that are happening, the increasing speed of events, and project ourselves into a near and the more distant future by leveraging information and changes to our advantage. We need to unlearn and relearn new lessons to take the challenges and opportunities we face and use them to our advantage.
Digital transformation during Covid
Digital transformation has accelerated dramatically in 2020 due to Covid-19 and Canadian enterprises having to move their operations from a traditional physical-centric model to a virtual-centric model to engage with customers and employees.
Even as companies had slowed down IT initiatives in other areas due to the uncertainty around the current pandemic, they are moving ahead with cloud plans to support digital transformation.
IBM spoke about the future of IT being hybrid cloud, with only 15 to 20% of workloads having been moved to the cloud and 85% of customers using more than 1 cloud provider.
IBM is a key player in the cloud arena and is making bold moves to help clients in their cloud journey. The purchase of Redhat in 2019 and spinning off the non-cloud and non-AI segments of the business in the 'NewCo' are great examples of how they are creating an IBM strongly focused on advanced technology to help Canadian businesses succeed.
Data Security a constant concern
With the prominence of cloud initiatives comes the growing concern around data security. One of the points brought up during the summit was the key differentiator of IBM public cloud using Hyper Protect Crypto Service. This is a FIPS-140-2 level 4 HSM. Providing the ability for customers to guarantee that only they have access to their encryption keys.
IBM also announced at the event is that their new Cloud multizone region (MZR) in Toronto will go live in November. This will be a big enhancement to their existing cloud services so companies will be able to run mission-critical applications closer to home. Given the US Patriot Act and many customers not allowing data to cross the USA border, this will allow data to stay in Canada and customers to have greater access to IBM cloud services.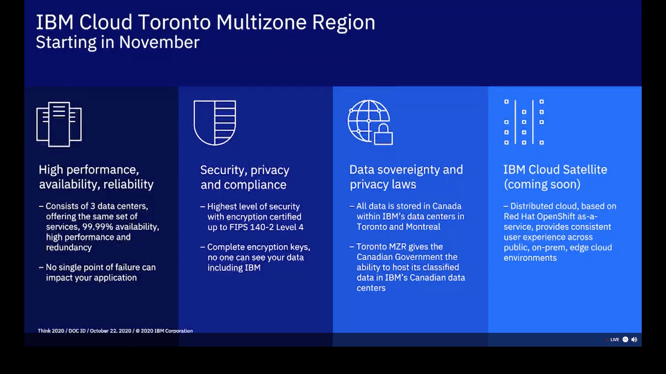 The speed of innovation and business is faster than ever, and technology is at the center of those innovations. One thing definitely stood out during this event; IBM is a key partner that its clients can leverage to think, accelerate their digital transformation and capture the opportunities in front of them, even invent them.