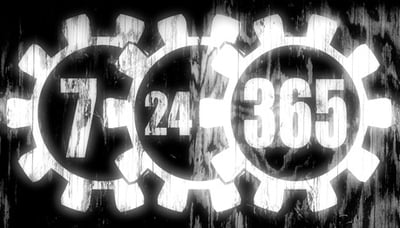 High availability systems have many advantages for companies that handle a large volume of data and multiple applications.
First of all, this type of system protects against significant financial losses when an unexpected event makes sensitive data inaccessible. It also helps to better manage outages, resume operations quickly after a failure, and significantly reduces the downtime of IT systems during backups.
In this leading edge field, the IBM system i - also known under the names AS/400 and IBM Power – has been a reference for almost 30 years. As part of a high- availability environment, the Quick-EDD/HA solution by Traders is recommended for an operation that ensures the quick uptime of systems and data availability.
Specifics of Quick-EDD/HA

Quick-EDD/HA is a complete high availability solution for IBM i servers. It meets all the security requirements of this type of system, thanks to its logging process that replicates in real time on a backup system, and all updates made to the source system. It's like having a built-in fire extinguisher extinguishing fires before they even arise.
Despite the simplicity of this high availability option, some elements must be taken into consideration before starting any implementation.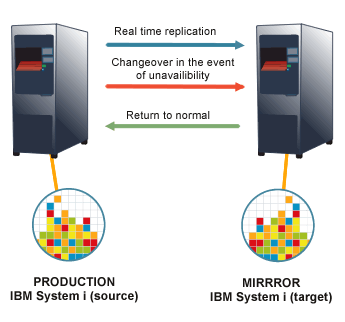 Prerequisites to consider:
1. Installation
The implementation of the Quick-EDD/HA solution requires hardware (IBM i) with a source system and a target system, on which the Quick-EDD/HA solution will be installed. The realization is easy and requires only 10 to 15 minutes of installation by clusters or production systems partitions. Thus, in only six days, all installation steps are completed; Audit the replication test, through the complete transfer of skills to manage the application.
2. Care and maintenance
When investing in such a high availability solution, make sure to have qualified staff to ensure the day to day. While most elements of Quick-EDD/HA are automated, system management requires surveillance for approximately five minutes per day, to ensure optimum performance
3. Costs
The costs associated with this high availability infrastructure may vary depending on the machine model used (P05, P10 or P20, for example) and the license. Depending on the option chosen, maintenance activities are required every 12 or 36 months.
The distinguishing features of Quick-EDD/HA

Quick-EDD/HA has many features that simplify the use of high-availability environments. These advantages make it an unrivaled solution for Power servers
The main benefits of this solution are:
• Simultaneous treatment in real time and in sequence, of all of the production system logs. So, no need for remote logging (remote journaling) as a backup strategy.
• A significant reduction in CPU consumption and bandwidth since only the elements useful for replication and direct application are sent to the backup system.
• Its full compatibility with all the logging options for the AS/400 such as Commit/Rollback, Journal cache and MINENTDTA, makes Quick-EDD an easy adaptive solution.
• The Independent synchronization of logs allows, production without any interruption, comparison of the data sources and the data targets contained as to transfer only the differences.
• If an incident occurs in production, monitoring of work flows permits to resubmit, identically, the ongoing work in backup system.
• The reading target utilization and continuous protection of data enables continuous replication of production, while achieving statistical extractions.
• Graphical interface is simple and automated to supervise any replication operation.
While the availability of critical business services is an aspect of increasingly strategic value, it becomes necessary to build the best applications to ensure optimal operation.High availability is therefore a major business issue.
Photo credit: © JEGAS RA - Fotolia.com