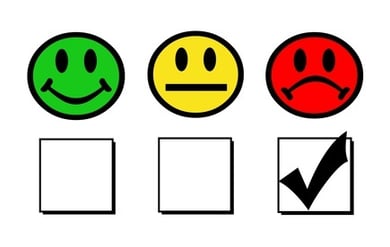 A mobile app can be an excellent tool for companies wishing to improve internal processes and the efficiency of its employees.
However, to effectively achieve these objectives, the application must at all costs avoid certain missteps related to its design, value and efficiency.

To this effect, here are 7 elements that will, without a doubt, result in a bad user experience and will, by the same token, undermine the reason for its creation.
Errors related to the design of an application with an impact on the user experience (UI / UX)
The design of any application is THE essential key to the user experience, and yet it is still often overlooked. There are books with very detailed recommendations that identify best practices for design interfaces, commonly called Human Interface Guidelines.


Important
When it comes to client-facing applications, they need to be simple enough for the employee to perform the tasks on their device, while maintaining eye contact and the conversation with the customer.
It's easy to list dozens of application design errors that negatively impact user experience, however, we will address three that may seem obvious, yet are frequently ignored.
1. Too small buttons
Among the golden rules to follow in an application design, button size is critical. They must be big enough so that it does not take the user two or times time to activate them. This simple frustration, especially if it is repetitive, creates resistance among users.
2. Having to carry out 4 or more steps to complete an action
It is the same for the number of actions required to perform a task within the application. The more the user must go through a large number of screens, the more their interest decreases. This is especially true if the user is in the presence of a customer.
To be effective, an application must be designed as simply and smoothly as possible and respect the rule of a maximum of 3 steps to perform an action.
3. A background poorly suited for use
The use that workers have for a mobile application must be considered for the choice of wallpaper. The parameters for good readability of a screen will vary drastically between an outside usage in the sun or an inside one, say in a warehouse.
Although this seems like a small detail, a bad choice could make the application unusable and therefore useless.
Errors linked to the value of an application
4. Makes no change to the old working methods
If the transition to a mobile app can have many benefits for an enterprise, it must equally provide benefits to its users. Otherwise, why bother to change their ways of working?
Therefore, it is necessary to validate that a mobile app provides an easier way to accomplish a task and/or saves the users' time.
5. Does not generate user interest
Employees have their mobile devices with them wherever they go and practically with them at all times. The mobile device thus has a personal dimension that must be taken into account to generate interest. Among others, gamification is an excellent incentive.
Several companies "reward" their employees, in some way, when they reach a certain percentage of sales, for example. In the case of e-learning, the user can access certain zones when it reaches a new level of knowledge, a bit like a video game.
Errors associated to the effectiveness of an application
6. Propose the wrong platform given the intended use
Tablet, mobile phone or other device type? This choice may seem a simple matter of taste, yet it can make a difference on the ground. Everything must be taken into consideration so as not to disrupt the user experience.
For example, a tablet must be handled with both hands. So, if the application is for a salesperson in a retail business that must simultaneously use other systems, it will become cumbersome, and its use counter-productive. It would have been preferable, in this case, to equip the user with a mobile phone that can be used more easily, or at least a type of smaller device.
7. Not providing a powerful enough battery
The battery of a device should be able to last throughout a shift, otherwise the tool loses its effectiveness. If the app utilisation is very important, that is to say, it necessitates constant communication with the management system, it is essential to take this criterion into account in the choice of equipment offered to employees.
Photo Credit : © Hugh O'Neill - Fotolia.com