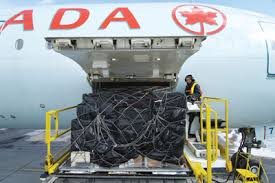 The persistent increase in the flow of goods is forcing transportation and logistics companies to look for new ways to optimize their processes in order to meet the needs of their customers. It is in this context that mobility solutions are beginning to replace traditional paper work.
Air Canada Cargo is a pioneer in the adoption of new technologies and solved a business problem around the transfer of sensitive goods (refrigerated products, live animals ...) thanks to a new mobility application for iPhone and iPod.
Here is how they achieved significant operational gains by moving from paper to iOS.
Help in the supply chain management process: 4 main benefits of the mobility application
Paper was a problem for Air Canada Cargo. Not only was it slow, error-prone and inefficient, but critical business information sometimes went home inadvertently in employees' pockets.
They had previously attempted the transition from paper to a mobile application but the solution was overly complex in nature, which caused poor adoption and misuse. By moving to a custom app on iOS with a simpler approach, they were able to ensure success.

Easy data input, better accuracy, and faster decision-making
The solution included Infinite Peripherals' Linea Pro scanners to input the data quickly into the devices for processing. Because the process is not relying on paper and on manual data capture, the risk of mistakes and mishandling dropped dramatically.
By scanning goods with iPhones and iPods, ground staff can easily access information on the goods in real time, but also on the truck that will be arriving to transport them. This way, coordination is improved, the process is faster, thus the risk of exposing the goods to non-compliant conditions is significantly reduced.
Improved time management for ground staff
The adoption of the mobile solution has also allowed staff to use the terminal for the duration of their shift, without needing to recharge. The technology is a major time-saver for ground workers who can now avoid going back and forth to drop-off and pick-up papers for each load.
Live updates on goods for the customer
Not only does the mobile solution on iOS provide a much faster aid for decision making for airline staff, but it also enables customers to receive live updates on their goods. Improving the customer experience in this way has allowed Air Canada Cargo to set themselves apart from the competition.
Development of business intelligence
Gradually, as the mobile application is used, data is consolidated and used to create business intelligence, which further improves decision making for the management of the flow of goods.
The staff on the tarmac and in warehouses benefit from concrete information that increases the efficiency of their work. Although mobile devices like the iPhone or the iPod are still often considered as simple phones, their uses are almost infinite.
Successful partnership between all parties

Air Canada Cargo's experience shows that enterprise mobility application solutions can highly improve the flow of the supply chain. This is a current challenge companies are being faced with and many are starting to realize that it is in the transfers of goods that there are precious minutes and reliability to gain.
Through the partnership between Air Canada Cargo, Infinte Peripherals, Apple and Present, the airline has successfully and quickly implemented an enterprise mobility solution that enabled significant operational gains, that were measurable instantly.
Take-away
Successful enterprise mobility applications are the result of a highly structured process from the conceptual phase to deployment. By teaming up with partners who have specific expertise, you will dramatically increase the relevance, user-friendliness, efficiency, and adoption of your mobility solution.