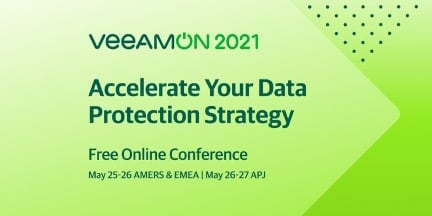 Veeam, created a decade ago, has an impressive track record:
1 million active installations of Veeam Backup & Replication (the world's most widely deployed enterprise backup software).

Over 15 million protected Microsoft 365 mailboxes.

An install base of 400,000 customers.
It was within this context that VeeamON 2021 was held:
The seventh global Veeam user and partner conference bringing together IT visionaries and data protection experts.

Over 30,000 registered participants from 175 countries gathered for two days of discussion and networking.
The conference program was focused around four main themes namely:
Cloud acceleration (AWS, Azure, Google).

Cybersecurity and ransomware elimination.

Kubernetes.

Microsoft Office 365 backup best practices.
Given the large number of sessions taking place simultaneously, I chose to attend the presentations that I found most relevant to the concerns of our Veeam customers.
General session: The future of modern data protection.

End-to-End Workshop: Veeam CDP

AWS, Azure, Google Cloud Native Backup - Getting Started.
Ransomware Recovery – 10 Top Expert Advice & Tips.
New V11: Best Practices for Enterprises.

Architect's Desk: Sizing of Veeam Backup & Replication, Proxies and Repositories

VeeamON Exclusive: V11 - 3 months in with Anton Gostev.
As part of the unveiling of its roadmap, the company announced:
Key innovations for cloud native solutions for AWS, Microsoft Azure, Google Cloud, Microsoft Office 365.
The first integration of Kasten K10 for Kubernetes in Veeam B&R.
The solutions presented at VeeamON will be available later in 2021.


What I take away from these 2 days:
And the closing remarks from Danny Allan, CTO at Veeam: "With these demonstrations [at VeeamON], we are upping the ante for Modern Data Protection, ensuring our customers can protect ALL workloads across ALL environments; Veeam continues to set the standard for the industry,"