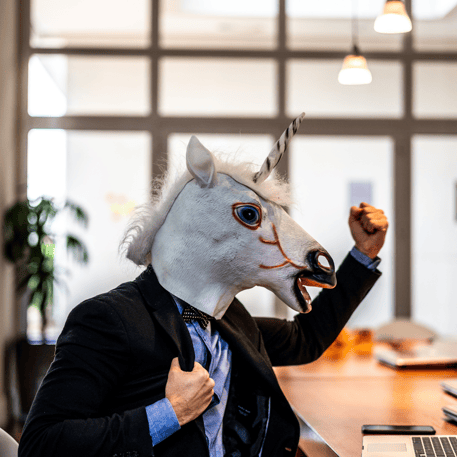 If you're a recruiter, you've probably heard the term "unicorn employee" before. If you have not, well, we are not referring to the mythical animal that our kids are obsessed with, but rather the candidate, or in our context, the IT employee, who stands out for both their interpersonal skills and their IT knowledge. Hiring a unicorn employee is considered a huge win for any business.
How to recognize a unicorn employee
Unicorn employees do their jobs with passion
Passion is the energy that the unicorn employee runs on. He or she is the type of person who wakes up every morning enthusiastic about reaching their goals and always doing more. Why? Because for them, IT equals happiness.
The unicorn employee is in solution mode
The Unicorn employee also equals proactivity. He or she has the ability to take initiative, to see in the long term, while also being attentive to and anticipating other's needs.
The unicorn employee has a positive attitude and is customer oriented
The unicorn employee's approach is customer-oriented, their ultimate goal is to ensure a memorable customer experience. They have great listening skills, and their empathy enables them to fully understand and defend the interests of the client.
The unicorn employee has a mindset of continuous learning
Many believe the unicorn employee has niche IT knowledge and experience. That can be the case but more often if the quest for knowledge and adaptability is there, it can be just as powerful. Technology evolves so quickly that these qualities might be even more sought after so employees can continue to grow their skillset and reinvent themselves as years go on.
Think outside the box to attract the unicorn of your dreams.
You read that right, attract, not recruit. Why?
In today's IT recruiting world, demand exceeds supply. And given the abundance of jobs available in the market, it is the workforce that has the luxury of turning down positions that are not deemed attractive enough to them. For many organizations, recruitment then becomes a real challenge.
To attract the unicorn of your dreams, promote your business to attract employees who have the same values as you. For example, share through your social networks or your website your corporate values and your corporate mission. Your brand image will distinguish you from the competition and stimulate the interest of top talent.
You can also do business with unicorn hunters ... or a recruitment firm specializing in IT
It is not for nothing that business leaders turn to the services of an IT recruiting firm. In addition to being quick and finding unicorn candidates, IT recruiters have in-depth knowledge of the field, they have the right tools and have a vast network of contacts in the industry. In short, by doing business with a recruiting team specializing in IT, you will ensure that you maximize your chances of finding your ideal employee.
Invest in your employees and promote well-being
Once you've recruited the unicorn employee to your team, you'll also need to focus on retaining them over the long term. Business leaders know they need to invest in people to be successful. Happy employees will be much more productive and less stressed, especially in a world like ours where depression and anxiety run high. So, how do we identify the needs of our employees? Pay attention to signs, offer flexible hours, promote teamwork, give them a voice and above all, value them.
Conclusion
Finding IT talent in a market where demand exceeds supply is no easy task. Present can help! We provide permanent, contractual and temporary IT resources to meet your criteria and objectives.
Our team of experienced IT recruiters have the technical expertise, well-established networks and a proactive methodology to save you precious time in your search for quality resources.