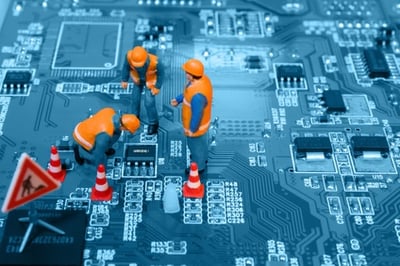 When you invest in a high availability environment with IBM Power servers (also known under the names of AS/400 and IBM i) you know you have a powerful, robust, reliable, flexible and secure machine.
Despite the undeniable benefits of Power servers, it is important to note they are not infallible, neither are the environments they operate in.
So you need to protect yourself against the different types of disasters that can affect your IT facilities; be it a flood, fire, internal employee error or equipment failure.
Although high availability environments provide a certain level of peace of mind when it comes to access to services, testing the recovery environment remains critical. Some companies rely blindly on the reliability of their systems and neglect recovery testing. In fact, it is estimated that only 10 % of companies regularly perform maintenance examinations necessary for the functioning of their recovery environment.
Are you among the 10% or 90% of those companies whose production capacities are at risk because of gaps in your disaster recovery plan?
Test and retest to improve your recovery plan
While large companies such as banks and insurance companies are already aware of the importance of regularly testing their recovery plan, it is quite different for SME's, whose priorities revolve mostly around growth.
The lack of time, resources, constant need for availability of computer systems, costs of testing and fear of losing valuable data during the simulations are many reasons why companies postpone essential testing. This attitude is often reinforced by a poor understanding of how to develop a test program and recovery plan.
Ideally, a company should test his full recovery system at least once a year to prevent the recovery system from becoming obsolete.
Understand that the recovery system works by following the procedures of a programmed scenario, that is to say a recovery is developed and refined by an administrator whenever a complete test is performed.
Since the IT infrastructure is constantly evolving, always take into account new integrated features, new connections and new applications. These variables complicate the procedures in case of problems and absolutely must be tested in order to avoid the worst.



2 types of essential tests for a high availability environment
1. The comprehensive test
The administrator performs a complete switch of production systems to the backup system.
This type of test should be carefully planned so that it does not disturb production and that all systems can be switched back in the time allocated for the test. During this test, the behaviour of all components within the environment is analyzed to detect any problems to solve.
These simulations allow for the development of new solutions and enrich the succession plan to ensure better security of all IT components.
2. The blank test
These tests are less expensive and less burdensome for businesses, as they are only performed on the backup system. They simulate a recovery that does not interrupt production, but still allows you to check, in part, the proper functioning of the recovery plan.
This is an attractive option for companies that cannot afford to interrupt their activities in order to conduct more comprehensive tests. These tests are also faster to perform than complete tests and can be carried out more regularly.
An ounce

of prevention is wort

h a pound of cure.
When it comes to implementing a company's recovery plan, optimism may be the preferred approach but even if you can hope for the best, you should be prepared for the worst.
This is even more critical in high-availability environments, which by definition are located in businesses that need to rely on their systems 24/7.
Make sure you have a recovery plan that has been tested for different scenarios and if you have doubts, ask for help before you are in a disaster situation.
Photo credit: © OleGunnar - Fotolia.com