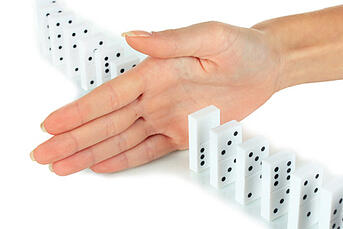 It is inevitable that some sort of disaster, whether it be a natural disaster such as fire or flood or man-made ones such as infrastructural or power failure, security attacks or human error will occur at some point in a company's life. It is therefore essential to be prepared to overcome these events as quickly and easily as possible.
In conjunction with the business continuity plan, businesses should develop IT disaster recovery plans in the event IT systems stop functioning. The recovery strategies should aim at restoring data, applications and hardware in time to meet the needs of the recovery of business functions. What we often hear when asking our clients about their DR plans is that they have backup tapes of data stored offsite, and not much more than that.
One of the most important first steps of disaster recovery planning is to assess the potential risks to the organization should computer systems be inaccessible or inoperable for an extended period of time. For IT departments, planning starts with defining what the threshold is for the amount of downtime; is it 1 hour, 1 day or 1 week? As well, different IT services will have varying thresholds.
There are different strategies for disaster recovery that we discuss on our ebook 5 Steps Toward a More Functional and Efficient IT Infrastructure. It depends on the needs and budget of individual enterprises on which route they take.
As an overview, there are companies and businesses that will not tolerate downtime and they make use of dual data centers that are able to handle all their processing needs that runs parallel with data that has been synchronized from the two centers. However, this method is quite expensive and often can only be afforded by larger companies.
Small and medium businesses also need IT recovery solutions to protect their data and applications. Many of them have access to more than one facility and hardware from the other facilities can be synchronized so to operate similar hardware when needed. If data is backed up at the alternate site, then it can be used to restore normal functions at the primary site. Those who do not have their own facility can use a colocation service or rent virtual machines in the cloud.

Data applications, data streams and security services can be managed and hosted by vendors. The information can be accessed using web browser from the alternate locations or from business premises. If there is a problem vendors can detect and hold data for their clients till systems are restored in the primary site. Additionally, vendors can detect malware threats and enhance your business security.
Whatever the recovery strategy, it should be created for data, applications and IT systems, which are inclusive of data and connectivity, devices that are wireless, laptops, desktops, servers and networks. IT systems need data, connectivity, software and hardware. Without one of these, systems may not operate well. In this case the recovery plan should be made in anticipation of the following components failing:
Room environment of the computers

Service provider connectivity

Hardware

Data restoration

Software applications

IT recovery plan
It is important for businesses to develop IT recovery plans and it starts with compiling inventory of data, software applications and hardware. This should be inclusive of a strategy to ensure that all the data has been backed up. Identify all the critical data, software and hardware that are required to run them.
Benefits of the disaster recovery plan
The data and hardware will be protected

Significantly decreases down time and it will help your business recover essential data quickly and easily.

Helps businesses be more prepared in the event of a disaster

Employees will be informed on what actions to take soon after the disaster to ensure that the business continues past the disaster.

Helps protect your organization's image, brand, and reputation. Being known as a reliable company is always good for business.

With an effective disaster recovery plan, insurance companies will view your business more favourably.
Disaster could happen at any time, it is therefore important to take action. Implementing a complete recovery plan will ensure the effects of a disaster are limited and business will return to normal as quick as possible. And don't forget to test your plan; an untested DR plan is no plan at all!
To learn more on IT disaster recovery solutions, download our ebook 5 steps towards a more Functional and Efficient IT Infrastructure.
© Africa Studio - Fotolia.com