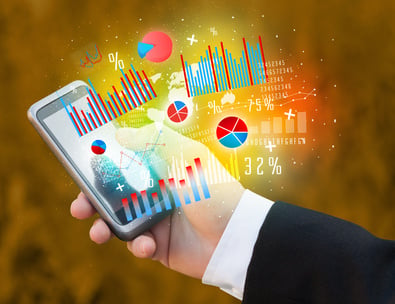 Mobility has already shifted behaviours in the way we work, shop, spend, consume information and compete in business. The time to act is now for enterprises who haven't already adopted clearly defined mobile strategies.
The following 20 mobility statistics provide key data on general trends in mobility, enterprise mobility and consumer mobility.
Find what's relevant for you and enjoy and share the stats!
General mobility statistics
1. Mobile devices in use, including both phones and tablets, will grow from over 7.7 billion in 2014 to over 12.1 billion by 2018.
Source: The Radicati Group, Inc., February 2014

2. By 2018, more than 50% of all mobile apps will be created by business analysts without coding.
Source : Gartner Research

3. Time spent on mobile apps exceeded desktop web access for the first time in 2014.
Source: Marketing Charts

4. The average smart phone user has 41 apps installed on their phone.
Source: Localytics

5. 41% mobile users have turned to a competitor's website after a bad mobile experience
Source: Google

6. 53% of total email opens occurred on a mobile phone or tablet in Q3 2014.
Source: Experian "Quarterly email benchmark report" (Q3 2014)

Corporate mobility statistics
7. Some 33% of companies are planning to build enterprise app stores.
Source: Forrester - "The State of Enterprise Mobile Security", 2014

8. 64% of employees rarely use enterprise mobile apps because of poor user experience.
Source : Forrester

9. At work, 18% of employees use 3 devices and 22% use 2 – with more than 56% using 3 or more.
Source: Forrester

10. Peak hours for productivity and utility application usage are between 9 and 11 PM in working adults (25-54).
Source: Flurry

11. By end of 2015, most western economies will report a 50% increase in unfilled digital technology jobs, such as data scientists.
Source: Gartner - Top 10 Strategic Predictions for 2015 and Beyond: Digital Business Is Driving 'Big Change'

Consumer mobility statistics
12. By 2017, 50% of consumer product investments will be redirected to customer experience innovations.
Source: Gartner - Top 10 Strategic Predictions for 2015 and Beyond: Digital Business Is Driving 'Big Change'

13. 65% of consumers download business-specific apps for more convenient access to information.
Source: Salesforce – 2014 Mobile Behavior Report

14. Consumers are spending 127 minutes on mobile apps per day.
Source: Mobile Devices to Surpass the Number of People on Earth – Infographic

15. More than 2 billion mobile users will make a mobile commerce transaction by the end of 2017.
Source: Juniper Research

16. 50% of consumers expect transactions to be easier on mobile than they are on a computer.
Source: IBM

17. 30% of mobile shoppers abandon a transaction if the experience is not optimized for mobile.
Source: MoPowered

18. 51% of shoppers research online and visit store to purchase while 17% visit store first, then purchase online.
Source: Ipsos Mediact

19. 32% of shoppers research online, visit store to try, then purchase online.
Source: Ipsos Mediact

20. Tablet visitors are nearly 3 times more likely to purchase than smart phone visitors.
Source: Adobe

Whether it is to improve productivity, sales, customer retention, customer experience, or any other business goal, mobility is growing more and more essential for businesses to remain competitive. Have you already started down the mobile path and need some guidance to go further or you want to get started but don't know how? Download our guide 10 Reasons Your Business Needs Mobile Capabilities TODAY.
Credit : © ra2 studio - Fotolia.com