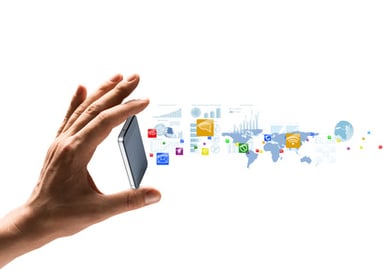 There's no doubt that today, the role of marketing managers is inseparable from information technology, and more specifically from mobility.
The rapid evolution of this role made inevitable by mobile innovations and the evolving customer behavior is accompanied by considerable challenges for companies.
To help marketing leaders deliver results, here's what they should know about mobility in 2015.
The enterprise digital transformation: beyond mobile applications
In 2015, even if we are still talking about implementing mobile strategies in companies, it is the complete digital transformation that is at the heart of CMOs and CIOs initiatives in order to achieve these 5 main objectives, according to Accenture:
• Create revenue opportunities
• Speed up of the development of products and services
• Increase customer engagement
• Respond faster to customer requests
• Allow for entry into new markets
In the end, CMOs need to share a common agenda with CIOs to accomplish this transformation and implement mobile technology in all systems and business processes.
Think in terms of the customer experience
The significance of mobile applications that are not part of a wider ecosystem will be gradually reduced. For a more seamless customer experience, marketers must now provide mobile applications that can be used in combination with others.
For example, Uber let its users book their trip on its application but also with Google Maps.
Even enterprise mobile solutions must integrate the element of the experience in order to promote adoption and increase work efficiency.
Think mobile first when it comes to advertising
Mobile traffic exceeded the traffic from desktops in 2014 and this progression will only continue to intensify in the coming years. It has therefore become superfluous to try and adjust standard ad formats to make them fit into smartphones and tablets.

Native mobile advertisements have already proven that they cause less disruption than traditional banners, that they contribute to the user experience and increase the level of commitment. According to Celtra, customer engagement with native ads is 5 times greater than with banners.
Examples of native mobile ads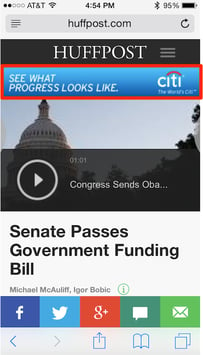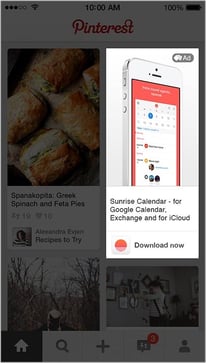 http://appsfire.com/
Mastering confidentiality and privacy
The sensitivity of mobile users to privacy is increasing and different countries are taking regulatory steps to protect the private sphere. A recent poll by the Office of the Privacy Commissioner of Canada demonstrates the concerns of mobile device users, where 75% say they had decided not to install an application due to concerns about the personal information requested.
The motion of privacy will act as an obstacle, especially with the increase in the use of Beacons in retail, for example.
While CMOs must continue to collect information from enterprise mobile applications in order to gain a competitive advantage, they must proceed with caution and comply with new rules that will eventually be imposed by regulations.
Today we are witnessing an unprecedented revolution in the role of CMOs. In fact, in 2015, any marketing strategy is inevitably anchored in information technology and must contribute to transforming enterprise paradigms.
The partnership between CMOs and CIOs is more than ever a necessity given the rapid evolution of buyer behaviors and technology. The speed at which change is occuring is accompanied by a need to call on specialists to accelerate change within your enterprise.
© adam121 - Fotolia.com