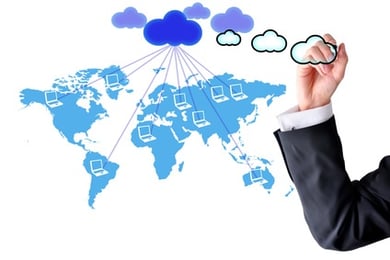 vCloud Air is a cloud service launched by VMware in 2014. Highly secure, vCloud Air effectively combines the flexibility and scalability of a public cloud with the benefits associated to your existing infrastructure.
In this sense, it is a cloud that can be truly hybrid and is a very interesting option to meet the ever growing IT needs of businesses and thereby ensure their productivity.
With extreme flexibility, which is one of the benefits sought by companies when they use cloud services, vCloud Air offers all the elements of IaaS (Infrastructrure-as-a-Service) and also of Raas (Recovery-as-a-service), also known as DRaaS (Disaster-Recovery-as-as-service).

If you already use VMware and its hypervisor, the use of the services offered by vCloud Air is a logical and efficient next step, both from an operational and financial point of view.
One of a kind portability
What makes vCloud Air unique is its unrivaled portability, since it was developed on the proven foundation of vSphere - which holds 70% of the hypervisor market share (even more in Quebec). Hence, it is a "ready to use" cloud, a unique advantage in the market.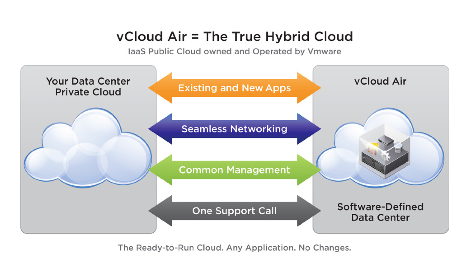 Versatility accessible to all
vCloud Air supports existing vSphere workloads, in addition to external applications and the development of new applications, making it a versatile platform that meets both the permanent and ad hoc needs of organizations.
In this sense, it is the ideal solution for companies that are already using vSphere and wish to migrate only some of their applications and data to the public cloud.
Worry free migration
Since it allows the use of the same portal without changing the configuration or settings, migration is easy. Once this is done, it enables having a truly hybrid cloud, with all the resulting benefits, such as the availability of workloads anywhere in the world.
Transparency of data centers and their use
This optimal transparency enables administrators to have an overview of all resources, regardless of where they are. This greatly facilitates the management for companies with data centers in multiple locations.
Simplified access to applications
Finally, the portability of vCloud Air allows running applications from anywhere, as if the user was on the company premises. Similarly, new applications are easily integrated to private infrastructure or public cloud, as appropriate.
Proven security and reliability
As vCloud Air was developed with proven technology, it ensures the same level of security, reliability and performance than conventional VMware infrastructure.
And thanks to the partners in the vCloud Air Network, companies can comply with the requirements as to the geographical location for hosting their data, if that is their reality.
The vCloud Air offer
The Air vCloud basic offer covers three main areas: the virtual private cloud, the dedicated cloud and disaster recovery centers.
It offers several types of services that includes everything necessary with regards to processors, memory, data storage and networking, in addition to supporting over 5000 applications and 90 operating systems.
Its application service offerings fill different needs faced by IT departments. Here are three examples:
1. Infrastructure as a Service:
As it is possible to use Infrastructure as a Service periodically, this application is ideal to fill in for a lack of resources, both for the development of a new application or during peak activity.
2. Disaster Recovery as a Service:
It is a reliable recovery system, which ensures the continuity of business operations in case of disaster. This service has great portability and facilitates the replication of VMware in the cloud.
3. SQL as a Service:
vCloud Air offers an interesting option for databases. It allows companies to maintain control, while taking advantage of external resources that ensure the optimisation of the environment, its performance and upgrades.


Photo Credit : © adrian_ilie825 - Fotolia.com