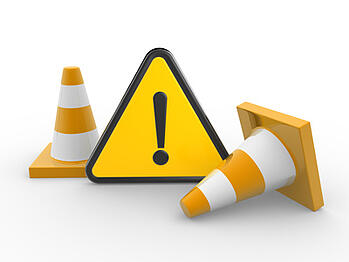 Since backup and replication are inseparable, companies increasingly need to combine these two elements to achieve their RTO and enable business continuity. Today, enterprise data centers are becoming increasingly complex, process volumes of data that are growing exponentially and are extremely solicited, resulting in the need for a very solid management strategy. The choice of technology is important for risk prediction.

We consider the risks described in this article are eliminated when the 3-2-1 rule is applied, that is to say, keep 3 copies of your data (including a production data set) on 2 different media types, 1 of which is located off-site.
1. Loss

or corruption of data
With replication, whether in the form of versioning, continuous data protection (CDP), deduplication or "images", the integrity of data can be ensured without disrupting or slowing down the production environment.
Replication solutions centralize reports in dashboards and assess the recoverability of environments according to the governance rules and requirements set out by the company. This is the best guarantee to having optimal data for restoration and recovery. According to a study by ESG, in a virtualized environment, the two main concerns of managers are validating the success of replications and of recoveries (equal to 44% of respondents)
If we compare it with the backup on tapes or disks, the number of recovery points with replication is significantly higher because the number of versions is higher.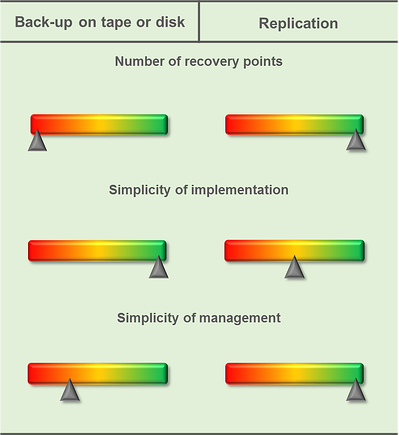 2. Unattained RTO
/ RPO
The RTO (Recovery Time Objective) and RPO (Recovery Point Objective) defined in the service level agreements must be respected to avoid financial and reputational losses and penalties. These two indicators are optimized by real-time replication, which nowadays can easily achieve an RPO of about 15 minutes in some cases. As well the automatic recovery, preconfigured, follows the optimal sequence for the resumption of operations .
While the restoration of an environment from tape can be a puzzle where all steps must be done manually, putting in place an automatic failover solution eliminates these burdens and the associated sources of errors. Automating the renewal of operations permits the control of the entire process from the integrated dashboard, lowering the time to restart processes and services, which achieves the defined RTO without having to be in crisis management mode.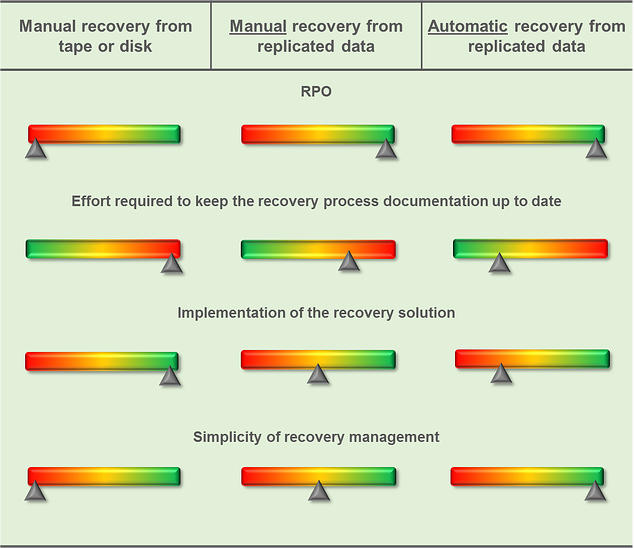 Our take
There is a
direct correlation between the

volume of data,

the importance of

data and the reliability

of the procedures for

backup or

replication

and restoration

that

should be

put in place.

Virtual environments are increasingly being deployed by companies because they can meet certain reliability requirements, but without adequate measures, they will not better guarantee the recovery of data than hardware environments in the case of a disaster.
Although many solutions are currently available on the market, such as VMware Site Recovery Manager, Veeam Backup & Replication, Traders Quick-EDD, Vision Solutions Double Take Avalability, DataCore SANsymphony-V or IBM Power HA, there is no one-size-fits-all solution. We believe it is essential for a company to do their homework to understand what their real needs are in terms of availability and recovery points (RTO / RPO).
Finally, many managers will say "I need a recovery plan," but they struggle to comprehensively identify and evaluate all the options in order to make a decision. It's at this time where it is essential to take advantage of outside expertise to make recommendations and implement a solution to meet your needs and budget.
© coramax - Fotolia.com