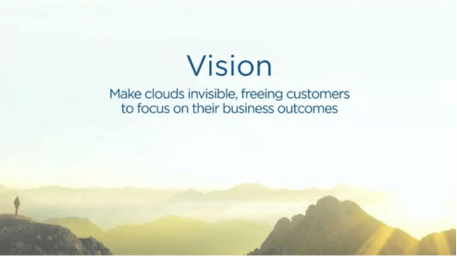 Nutanix kicked off its .NEXT 2021 conference on September 21.fr
The virtual event, with the theme "The Cloud on Your Terms", coincides with the launch of its AOS 6 platform with much anticipated new features.
Rajiv Mirani, CEO of Nutanix, explains very clearly the current positioning of the pioneer of hyperconvergence, at the opening of the conference:
"The Nutanix Cloud Platform continues to break down common silos within IT teams with the goals of simplifying operations so customers can focus on business needs. With these new features, we focused on addressing the common challenges many enterprises face in hybrid multicloud environments, including security, DR and virtual networking."
In other words, just as Nutanix simplified the traditional IT architecture from three-tier to one-tier, it is now looking to simplify the Multi-Cloud Hybrid approach, whether its customers are using VMs or Containers.
Strategic partners
But achieving this simplicity is much more demanding for hybrid and multi-cloud deployments than for 3-tier infrastructure replacements.

While Nutanix relies on infrastructure partners such as SuperMicro, Lenovo and HPE for data centers, the move to the public cloud requires different kinds of alliances.

At .NEXT 2021, Nutanix focused on Red Hat for containers, AWS and Microsoft Azure for public cloud, and Citrix for desktop as a service.
5 highlights
Here are the 5 main points we took from .Next.
1) The 21 Nutanix products are now consolidated into 3 ranges of solutions, namely: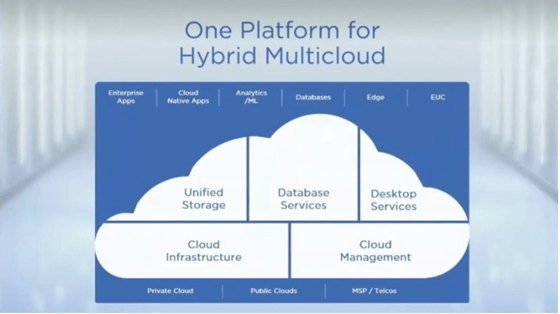 Cloud infrastructure which includes the products required to create a Cloud (AOS, AHV, Flow, Karbon, networking and DR)
Cloud management which includes the products required to manage a cloud (operations, automation, governance, cost, self-service)
Services (Files, Objects, DBaaS / era, Frame)
The star of .Next 2021 is undoubtedly AOS with its major revision 6.0.

Nutanix has enriched its platform with many innovative features to facilitate the creation of software-defined data centers and accelerate the delivery of Multi-Cloud deployments.

Now Nutanix customers have an integrated virtual network, improved disaster recovery and simplified zero trust security that would otherwise require additional hardware, software and specialist skills.

Most importantly, all functionality is handled by a single interface, which significantly lowers operational costs.
"AOS 6 along with virtual networking and security innovations in the Nutanix Cloud Platforms deliver an enterprise-ready, end to end platform to run any application, including the most critical ones, on-premises and in public cloud," said Eric Sheppard, Research Vice President, IDC Infrastructure Platforms and Technologies Group. "The new features address many of the demands of enterprise customers looking to gain efficiency and reliability across clouds, to support their needs now and in the future."
Conclusion
With around 64% of workloads still on-premises, the overwhelming majority of enterprises have adopted a hybrid Multi-Cloud strategy because it is this approach that offers the most flexibility.

Under these conditions, the transparent management of operations in different environments becomes particularly critical, especially as organizations seek to extend the limits of their virtual networks across public and private clouds.

In this context, even if Nutanix has to deal to a large extent with its various frenemies, it has extremely convincing arguments, such as its NPS score of 90 associated with a base of more than 20,000 customers, and its obsession with simplicity embodied in its one-click approach.
We can't wait for .Next 2022!