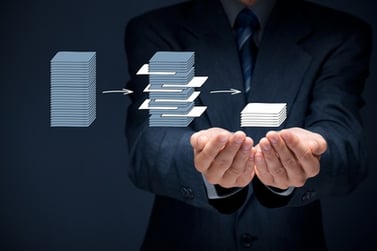 With the exponential growth of unstructured data, companies are facing challenges with storing this data and maintaining their environment at a high level of performance and availability.
It's true that file servers will do the work ... but with budgetary implications that are as astronomical as the volume of data stored. The challenges associated to the management of these systems are also a source of growing concern.
EMC's Isilon series was designed to address these problems. It can efficiently replace environments of any size by a single file storage infrastructure while at the same time offering ease of management, incredible growth potential and a much higher performance to traditional solutions.
It offers many benefits to file sharing over file servers.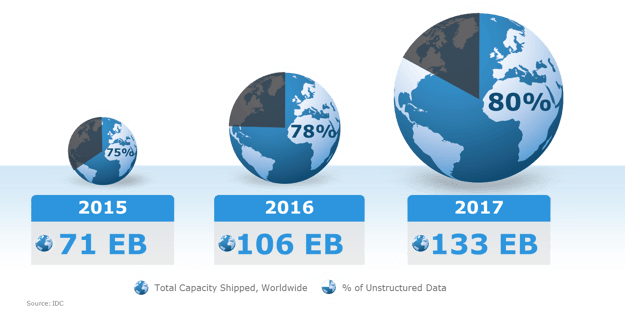 Growth in unstructured data (Source: IDC)
Above all, simplicity
Isilon's operating system, OneFS, makes management much easier and more fluid and simplifies the task of operators. Full backups can be real headache, and unless you have a considerable backup window, it is not possible without access to several drives, which represents a huge investment.
Isilon accelerates the backup process using Network Data Management Protocol (NDMP) and has advanced features that integrates to the existing system. As well, thanks to the replication between clusters, the Isilon production systems can keep rolling at full capacity without affecting the backup that is being performed in parallel.
Since the solution does not use Microsoft Windows Server, concerns related to security and to the continued application of computer patches are reduced.
"Elastic" solutions according to your needs
In a Microsoft Windows Server environment, increasing the volume of files leads to a scale-up, meaning, adding capacity or resources like memory, processors or hard disks to the database servers, or straight out adding more servers.
With Isilon, the answer to the need for increased resources is through a scale-out approach, that is to say, the addition of nodes to the existing cluster. Everything is done with a few clicks to adapt the infrastructure and size it to your changing needs.
A gain in efficiency and a highly available system
The scale-up method is not bad in itself, but most often requires downtime. For example, to add hard drives to a server, it will be necessary to stop the server, open it, add the drives, reconfigure the server and restart it.
Isilon is designed in a cluster and initially includes three nodes that are the equivalent of three servers. These work concurrently and thus increases the availability of servers. If one of them is interrupted, production can continue on the other two without interruption or diminution of capacity.
A flexibility that meets the needs of various devices
The ability to manage many types of devices, mobiles or other, and to adapt to the many protocols on which these devices work such as NFS, SMB, AFP, HTTP, FTP, Hadoop, or NDMP allows for extensive access to production files.
Important
The increase in the volume of data produced by businesses is increasingly leading them to look into clustered infrastructures, such as Isilon. The traditional file server model is a decreasing trend, as the opportunities for growth with these environments are both limited and restrictive.
© Jakub Jirsák - Fotolia.com